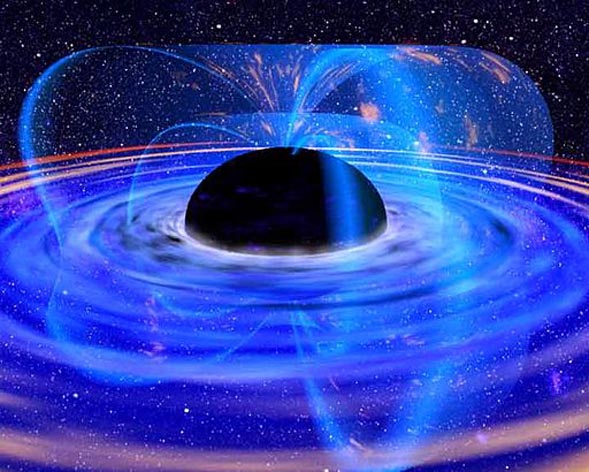 A large black hole or a microscopic one both share in common that they eat – and excrete – energy and therefore can grow, shrink and/or dissipate entirely.
Wikipedia
wikipedia.org
Creationism, deadly black holes, 9/11 conspiracies, global warming hoaxes, and other myths, Part II
By Tom Boyd
September 11, 2008 — OK, now that I've set the stage, I'd like to get to the main point of this column. So grab another cup of coffee, adjust your monitor, and prepare to reclaim your sanity in a world where millions of people seem to be incapable of rational thought on these four issues.

It's true that crazy conspiracy theories sometimes gain national attention. It's true that people like Sarah Palin might help lead a nation-wide movement to defile science in American classrooms; it's true that a sizeable chunk of our populous (many of whom were in Denver for the DNC) still believe that 9/11 was an inside job; it's true that Rush Linbaugh has millions of listeners (some with graduate degrees!) who believe that global warming is a hoax; and it's true that even the New York Times gave undue credence to the black-holes-will-swallow-the-earth theory about the Large Hadron Collider.


Before you begin your search for that Mediterranean beach where you can begin life as an ex-patriot, however, consider that ignorance is not something new to this world, nor has it ever been.

In this day in age we have more information at our fingertips than ever before. It's the kind of world where two men from Hawaii can consider themselves experts on the consequences of a powerful atom smasher which is buried 330 feet below the soil on the other side of the planet. People like Rush Linbaugh, who I doubt fared very well in his high-school science classes, and who has never taken a graduate course in planetary geography, can grab a microphone and denounce the nation's oldest scientific institution (the NOAA, founded in 1807), simply because it's located in a highly Democratic congressional district (Boulder, Colorado).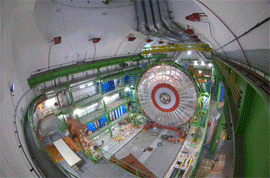 The Large Hadron Collider's CMS detectors being installed.

When Blaise Pascal definitively declared the existence of a vacuum (a space with nothing in it) after his famous experiment in 1646, the Catholic Church was horrified. If there was a place where nothing exists, they feared, then there was a place where God didn't rule, which therefore disallowed God the ability to be omnipotent.

Science has long faced this kind of resistance from superstitious religious leaders. In time, wise religious leaders have learned to reconcile their belief with scientific discoveries.
We can't expect Sarah Palin to do so very quickly, but many years from now our nation's disagreement over creationism seem as strange as France's uproar over the idea of nothingness.

Imagine if the internet and talk radio had existed in Pascal's time. Imagine the wave of disinformation and ignorance which would have poured over the man as Middle-Aged France unleashed its Christian fears upon him. In time, however, over generations, his ideas won out, as the truth of scientific-minded men and women always wins out.

We have many millions who are unenlightened, but we also have many millions who understand the difference between what's correct and what's incorrect, what's information and what's misinformation.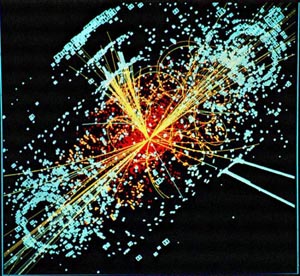 A representation of what may occur when the Large Hadron Collider makes what could be one of the most important scientific discoveries of the century: the discovery of the Higgs boson, known as the, "God Particle," sometime in the near future.

Around the world, more and more work is being done in the various disciplines of science which, in turn, is helping illuminate our world and give us a better picture of its origins, the origins of the species, and the inner workings of the cosmos, the Earth, and our own bodies.

We cannot expect the irrational side of our culture to suddenly evaporate. But we can remain calm and optimistic in the face of their absurdities. In the same way that we can find their borderline-insane arguments on the internet, we can find solidarity among one another on the world wide web (which, incidentally, was created by a scientist at CERN, the same place where the Hadron Collider is being built). We can calmly and rationally reject falsities, avoid ad homonym slander, and continue enjoying the fruits of scientific labor, which are sublime, manifold, and as surely true as anything can be in this Universe.

6 Comments on "Creationism, deadly black holes, 9/11 conspiracies, global warming hoaxes, and other myths, Part II"