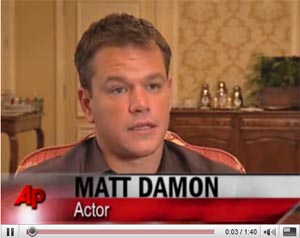 Scroll down and press play to see video of actor Matt Damon questioning the choice of Sarah Palin as Vice Presidential candidate.
youtube.com
youtube.com
An invitation to Republicans: answer questions raised by Matt Damon about Sarah Palin
By Tom Boyd
September 20, 2008 — In the video below actor Matt Damon expresses a lot of the same concerns I have about Sarah Palin, and he also wonders, out loud, why more people aren't talking about some of her less-than-mainstream beliefs.

"I don't know anything about (Palin); I don't think in eight weeks I'm going to know anything about her," he says in the video. "I need to know if she really thinks dinosaurs were here 4,000 years ago, that's an important ... I want to know that, I really do, because she's going to have the nuclear codes."

Here at RealVail we know we are a small media source, but I thought I'd give Damon a shout-out and let him know that millions of people ARE talking about these unknown elements of Sarah Palin, including the thousands and thousands of people who have read my recent piece condemning Palin for her apparent support of teaching Creationism in public schools.

There are many Palin supporters out there, and I have several friends and relatives who seem to be big fans. I invite any and all of you to use the comment function below to explain to me why Sarah Palin would make a good President if, God forbid, John McCain were elected and then did not survive his first term.

We have also asked Randy Milhoan and the Eagle County Republicans to share their views on this website, where all points of view are welcomed and encouraged (so long as they aren't profane).

If I am convinced that Palin is a wise selection as a running mate it will not be the first time that well-spoken, intelligent people have convinced me to change my mind – so please, watch the video below and have a go at answering Damon's questions in our open comment forum.





13 Comments on "An invitation to Republicans: answer questions raised by Matt Damon about Sarah Palin"