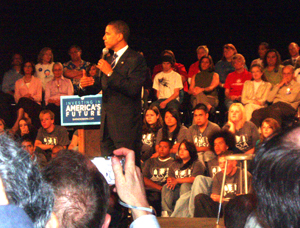 New poll has Obama ahead in Colorado
By Tom Boyd
September 23, 2008 — Daily polls ebb and flow as often as the tide, and may not be a solid indicator of who will actually win the election come November. Polls can, however, show which candidate is the favored candidate on certain issues.

The links below come from the Washington Post, which shows Obama ahead in Colorado and three other battleground states. Hi numbers are generally up during this time of crisis – or near crisis – on Wall Street.

In Colorado, Obama takes 49 percent to 45 percent for McCain while in Michigan Obama stands at 48 percent as compared to 44 percent for McCain. The contest in Minnesota, once considered a lock for Obama, is also quite close with Obama at 47 percent and McCain 45 percent. Only in Wisconsin does Obama have an edge -- 49 percent to 42 percent -- outside the statistical margin of error for the poll.

1 Comment on "New poll has Obama ahead in Colorado"