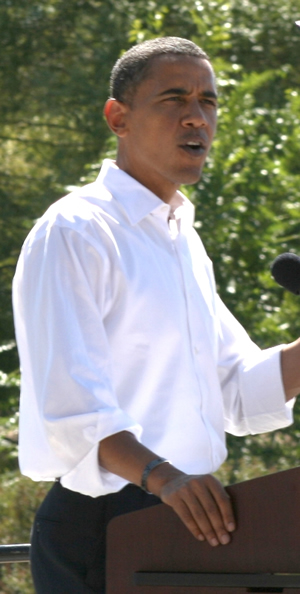 Barack Obama, shown here speaking to a crowd in Grand Junction, Colo., is heavily favored by Las Vegas bookies to win the presidency.
Photo by Eagle County Dems
Vegas odds are (heavily) in Obama's favor
By Tom Boyd
October 21, 2008 — Time is catching up with John McCain faster than a loan shark hitman chasing a deadbeat gambler down a Las Vegas alleyway. Recent polls suggest that his choice for VP, Sarah Palin, has had a larger negative impact on his campaign than his association with George W. Bush – in fact she is drawing a larger negative reaction than any other issue in the campaign, according to msnbc.com.

McCain is also struggling in the nationwide polls and seemingly on the verge of losing key republican strongholds like Virginia, West Virginia, Georgia and Colorado.

For what it's worth, the smart money is on Obama.

Or perhaps the money's not smart at all, but either way the money is on Obama. In it's cold, monetary monotone, Vegas has spoken: A $100 bet on Obama pays a mere $14.29 cents – or 14 cents on the dollar, according to the website www.sportsbook.com.

The same $100 bet made on Oct. 4 paid $33.32.

Perhaps McCain's next bit of economic advice will be for everyone in America to post a $1,000 bet that he'll win the presidency. Who knows? Perhaps the $4,000 we'd all win on the 4-1 bet, combined with McCain's planned tax breaks for multi-national companies, would be enough to pull this economy out of recession?

I wouldn't bet on it.


Comment on "Vegas odds are (heavily) in Obama's favor" using the form below