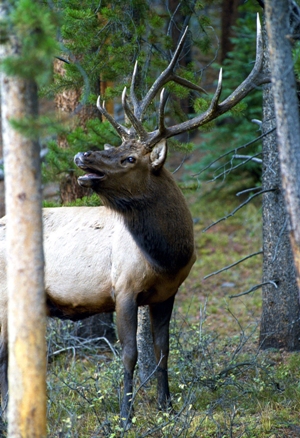 Contrary to ski-town myth, deer do not turn into elk at timberline.
Dan Davis
trekkerphoto.com
Busting a few ski-town, Vail Valley myths
By David O. Williams
April 15, 2007 — Stop me if you've heard these before: Deer turn to elk at timberline; moguls are plastic bumps stored in a warehouse during the summer; and the reddish hue in the local forests is caused by the pine trees changing color in the fall.


These are just a smattering of the ski-town myths (don't call them "urban") that strangely abound in Vail – a place seemingly too nascent in its mere 40-plus-year evolution to have accumulated much mythology.


Still, they're out there, and with apologies to Discovery Channel's "MythBusters," I'm going to tee up the most glaringly egregious of Vail's ski-town myths, sprinkle in a few of my own, and then do some serious debunking.


First, deer are deer and elk are elk, no matter their elevation. Timberline, where the trees disappear at about 11,500 feet, has no effect on the wild herbivores' status.


Moguls are made of packed snow that is skied in and around repeatedly. They are not mass-produced in China and then scattered by ski patrol on the slopes every fall.


The red tint to the lodgepole pines is the result of a recent pine-bark beetle epidemic and is not part of the annual fall foliage display. The trees are actually dying in droves (or is that groves?). Otherwise, there's a reason they're called evergreens.


That takes care of three of the most prevalent ski-town myths propagated by well-meaning tourists each season. Now here are a few lesser-know Vail myths:


Myth: Because the trees are dying, there will be a massive forest fire that will turn the front side of Vail Mountain into "Vail's world-famous Front Bowls."


Busted: Forest thinning in and around homes has already begun, and with all the heavy hitters living here, one assumes forest-fire response would be swift and massive. Can you say shock and awe?


Myth: Vail's Back Bowls were created by a forest fire sparked by irate Ute Indians fleeing the area in the late 19th century because of the influx of the white man.


Busted: The world's best inbounds bowl skiing was more likely created by a lightning strike.


Myth: Sticking with the fire theme, the black-helicopter crowd for years speculated Vail Resorts torched its own lifts and the Two Elk Lodge in 1998 to garner public sympathy and support for its Blue Sky Basin ski expansion.


Busted: That conspiracy theory went up in smoke with the 2006 arrests and subsequent conviction of a band of eco-terrorists in the Northwest. None confessed to being on the ski-company payroll.


Myth: Skiing is an elitist sport that eventually will go the way of foxhunting, polo and tennis.


Busted: Season passes sell in Denver for less than a night at the Ritz, making skiing the most egalitarian of sports – accessible to both brown baggers and the uber-wealthy. Example, Tiger Woods was spotted learning to ski last season at Beaver Creek and dining in the cafeteria-style McCoy's restaurant.


Myth: Skiing is a dangerous sport.


Busted: Statistically, boating and biking are more risky.


Myth: Skiing is not a dangerous sport.


Busted: Done stupidly (at high speeds in crowded areas), skiing is an extremely dangerous sport. Just ask all the instructors who got clobbered last season.


Myth: Everyone in Vail hates the highway.


Busted: Sure, Vail founder Pete Seibert didn't want Interstate 70 bisecting his resort, but since then it's become both a boon and a blessing, bringing with it quick access to and from Denver and tons of business, along with lots of noise, jackknifed semis and a few nasty jokes from people in Aspen about Bavarian truck stops.


Myth: It will take an act of God to bury the interstate.


Busted: Pie in the sky as it seems, pure commerce could win out some day, especially if Vail was part of a Colorado Winter Olympic bid. The new land created by tunneling the interstate through town would be priceless.


Final ski-town myth: A porno flick was filmed in Vail, with a sequence shot in the gondola forever immortalizing the Mile High Club.


Busted: I have yet to find a copy if such a film exists.




Comment on "Busting a few ski-town, Vail Valley myths" using the form below