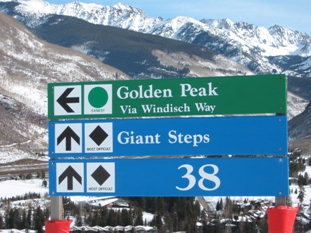 The 38th U.S. president Gerald R. Ford, who died last winter, will be forever remembered on Vail Mountain by the ski run "38."
Vail Resorts photo
www.snow.com
The Vail Valley: forever Ford country
By David O. Williams
January 3, 2007 — President Gerald R. Ford was a constantly shifting set of misconceptions for me.


Starting with my skewed perceptions of his presidential predecessor, the man Ford so famously – or perhaps infamously – forgave in August of 1974.


As the son of an Air Force major stationed at the Pentagon at the time, I vividly remember ingenuously cheering with my first-grade classmates when Richard Nixon won reelection in 1972.


My young mind was later baffled by Nixon's resignation in the wake of Watergate and Ford's reluctant accession to an office he never sought. My mother to this day swears she voted for McGovern.


Chevy Chase shaped my impressions of the unelected new president that first season of Saturday Night Live in '75, and I still marvel at my parents allowing a 10 year old to stay up so late to watch such a show.


When we moved to Denver in 1979 Ford became a part of my longstanding misconstruction of Vail as an elitist enclave harboring the rich and reclusive, heads of state, captains of industry and, yes, even an ex-president.


But when I moved to the valley in 1991 – a ski bum posing as a sports writer – all of those misapprehensions began to break down.


First came the Jerry Ford Invitational (JFI), a celebrity pro-am golf tournament that convinced me men in their 60's, 70's and 80's (Yogi Berra, Whitey Ford and the tourney's namesake) could play golf better than I ever would, thus forever chasing me from the sport.


Meeting and interviewing the likes of Julius Erving, Johnny Bench and Bob Knight at the JFI, it dawned on me the draw Ford was for the Vail Valley and the respect he had as the nation's most athletic president.


A center on two national champion University of Michigan football teams and by all accounts a skilled skier, Ford gave lie to the Chase impression of the bumbling buffoon, but he never did so publicly. He accepted such satire with his usual quiet grace.


In the ensuing years I found Vail to be populated by very real, warm and welcoming people – some with astounding stories to tell, but genuine folks nonetheless. And Ford was among the most visible and accessible.


He gave a fledgling news writer a big break in 1994 when he granted me his first interview after Nixon died. He stood by the pardon and acknowledged his politically sacrificial role as a healer of a nation torn asunder by Watergate and Vietnam.


"It would have been a long, tortuous process," Ford told me in grandfatherly tones when asked about an indictment of Nixon. "That would only have exacerbated the unrest and the domestic trouble here in the United States, and the only way to get that whole problem off my desk in the Oval Office … was to grant the pardon."


A little more than a year later my future wife Kristin and I passed Ford and his wife, Betty, leaving a screening of Apollo 13 on Fourth of July weekend at a local theater. "How was the movie, Mr. President?" Kristin asked. "Oh, it was fine," he replied.


For years we cheered as the Fords lit our community Christmas trees, attended Fourth of July parades, and raised funds for countless charitable endeavors.


We knew they were in town when a Secret Service member suddenly appeared in the booth behind their home and under the Strawberry Park chairlift in Beaver Creek.


We incongruously watched counterculture stars from the '60s such as Bob Dylan and Carlos Santana play beneath Ford's name at Vail's amphitheater; we strolled in the alpine gardens bearing Betty's name; we attended weddings and services at the Beaver Creek Chapel the Fords raised funds to build; and our children's favorite playground is in Vail's Ford Park.


So while the nation may never have elected Gerald Ford to the offices of vice president or president, Vail Valley residents voted with their hearts years ago: the Fords are a part of the fabric of this place – a fabric a little less rich for the passing of the 38th president.



Comment on "The Vail Valley: forever Ford country" using the form below