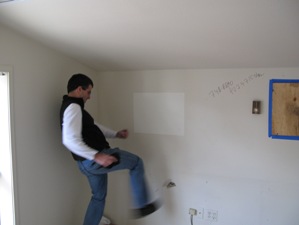 The author engages in some demolition of his own in the former editor's suite in the old Vail Daily offices in Crossroads.
David O. Williams
www.realvail.com
Crossroads a MOPFOM (Money Pit Full of Memories)
By David O. Williams
August 24, 2006 — Never before in the annals of Vail have so few battled so hard to save such an utter dump.


When last I occupied a desk (to say "worked" would be overreaching) in the Crossroads complex in Vail in the mid-'90s, when it still housed the Vail Daily, the place was a pit – albeit one oozing with character and plenty of post-production journalistic watering holes such as the Hubcap Brewery and Garton's.


Ten years later I'm borrowing some desk space in my wife's new pr office there and, guess what? It's a decade-older pit.


So I was equal parts bemused and amused by the preservationists who argued tearing down Crossroads and replacing it with Solaris, a towering temple to the ADD Generation complete with ice skating, bowling alleys, movies theaters, arcades and nightclubs, would forever alter Vail's quaint alpine character.


In fact, the Euro-centric plasti-Varia look the founders were going for was forever altered decades ago when the rest of Vail was built in a motif best described as pre-stressed concrete, sub-alpine schlock.


Vail Village does work. Tourists love it. I love it. There should have been more of it.
But once the interstate rolled through in the '70s the hodgepodge look followed hard on its heels and permeated the rest of the town.


So to me, anything that effectively walls off Vail Village and Vail Mountain from that incessant source of snickering from our rivals in Aspen, Interstate 70, is a good thing. Build a dozen Solarises (Solari?) from East Vail to Dowd Junction, then bury I-70 in a tunnel beneath the resulting construction rubble and forever put a fork in that stale old Aspen jab: "The book about Vail should be called 'A freeway runs through it.'"


Who remembers that overwrought Robert Redford clunker starring Brangelina anyway?


So once it was determined the town character/building height argument against Solaris was somewhat suspect, the heated special election last July (2006) was framed inaccurately as the Old Guard versus the New Guard.


I'd lean more toward Right Guard, because frankly the whole affair put off a powerful odor – a stench wholly unassociated with the beer-sticky bouncing dance floor at Garton's successor, 8150.


For this to have been an Old Guard-New Guard thing, somebody would have to have been guarding something other than the Vail Mountain-sized stack of redevelopment money associated with Vail's billion-dollar "New Dawn."


No, I'm going to have indulge my agro-acronymic inner child and position the Crossroad/Solaris spat as NIMBY's (Not in My Backyarders), aka IGOMSOP's (I Got My Slice of Paradise), versus WIFOM's (What's In It for Me?), aka PONER's with POM's (Post 9-11 Refugees with Piles of Money).


As an ITIFUD - a frequently conflicted resort-town journalist who often finds himself typing the words "In the Interest of Full Disclosure" – I should point out that my wife Kristin's pr firm played the winning hand in the Solaris campaign, thereby depriving herself of an office and me of a ski locker after this season.


And I should also note that when the wrecking ball swings low this spring it will carry home a few memories for me:


• A cub sports reporter interviewing cycling greats Davis Phinney and Rebecca Twigg in front of Crossroads my first day on the job in 1991 after they spun by in the old Red Zinger Vail Village Criterium.


• An awestruck music fan catching the likes of Sheryl Crow and Dave Matthews at Garton's before either had a Grammy to their name.


• A news reporter who churned out a few decent stories in the attic heat and Hubcap hops fumes of the Daily offices, where I met and married a reporter two desks down.


So what does the whole Solaris cage match make Kristin and me? OG, NG or MG (Middle Guard)? WIFOM's or IGOMSOP's? I think I'll go with LIMO's (Life Moves On) and cruise in style to the next BIOTED (Burning Issue of the Day).







Comment on "Crossroads a MOPFOM (Money Pit Full of Memories)" using the form below