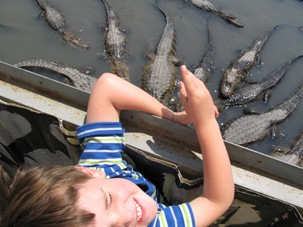 As the author's son, Max, discovered, there are even gators to be reckoned with in the high country. These were found at Colorado Gators near Great Sand Dunes National Park in southern Colorado.
David O. Williams
realvail.com
A critical mass of critters
By David O. Williams
November 18, 2004 — The wildlife of the Vail Valley went biblical last summer, plaguing our petunias, trampling our tulips and generally devastating our daffodils.


Some old-timers said it was the ongoing drought; others placed blame on our run of warm winters. All I know is I felt like Pharaoh, fighting every kind of pest with everything at my disposal (short of bushel baskets full of frogs).


First came the aphids, gleefully reducing my cottonwoods to a mulchy mist of, well, aphid poop – a sticky substance that wreaks havoc on auto exteriors. Then came the earwigs to feast on the aphids. Scary looking invertebrates with pinchers on both ends, but fairly harmless – until you find one in junior's diaper and suffer a mild stroke.


Rodents comprised the next wave: from voles to mice to pocket gophers. They gnawed their way from yard to yard, tunneling for tubers, sucking down succulent shoots and feasting on all manner of flora.


Finally, it was time for the larger mammals. First an ermine took up residence under our deck. Then a skunk wafted its way into our Singletree neighborhood, prompting panicked calls of putrescence to wildlife officers, friends and neighbors for advice. Their collective words of wisdom? Close the windows.


Lastly the deer and bunnies moved in, like late risers at a Vegas buffet, to polish off anything missed by the initial assault squads. Who needs a lawn service when Bambi and Thumper stand ready to reduce any loose landscaping to stubble?


I don't know if the insects begat the rodents which begat the heftier herbivores, but I wasn't at all surprised when the old lady down the street swallowed a horse.


Or when the guy in Bachelor Gulch put a cap in a bruin's butt, as they say in the 'hood, when the overzealous Yogi allegedly charged him in his driveway.


The homeowner's association fined the guy $1,000 for discharging a firearm within gated community limits. The lesson there? You can move to the mountains, but don't act like a mountain man (do you think Jeremiah Johnson hitched his horse on a heated driveway?).


So all my less-carnivorous visitors paled by comparison it would seem, though we did find a pile of bear poop in our backyard, made up mostly of birdseed from the neighbor's pillaged feeders.


Still, don't think I would have broken out the heavy artillery in an actual encounter. Take, for example, the use of paintballs by Beaver Creek security a few years back. Not only did the bears not appreciate the colorful pummeling – thereby fleeing the scene – but it left them a lovely shade of calico, which was fun for the tourists. This marked great progress for a resort which years ago made headlines by trapping and killing beavers along the banks of, you guessed it, Beaver Creek.


So it was with a sense of relief that I greeted the arrival of ski season (most critters hibernate or hunker down until spring), only to receive a chilling press release informing me that November is the deadliest month for auto-elk encounters on I-70 and the stretch through Eagle County is one of the worst in the state.


Also in November the donkeys descended, and I'm not talking Broncomania. Nor am I referencing an invasion of asses (unlike some locals, I love seasonal workers and tourists). No, I'm talking Democratic domination at the polls Nov. 2, where all but one Republican was sent pachyderm-ing, if I may.


The two moose that lumbered across I-70, scattering traffic near the Vail Golf Course, probably just stopped by to assess their chances of rekindling the Bull Moose Party.


All of which has left me wondering - in a true Gary Larson Far Side moment - if the deer stand around, watching another trophy home fly up, shaking their antlers and sadly saying to each other, "There goes the habitat."


Comment on "A critical mass of critters" using the form below