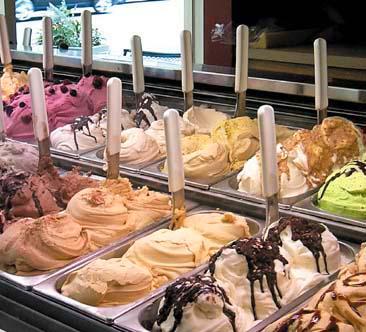 Oh-My-Goodness, that looks good. Ski Beaver discovers a lovely little Gelato place at the base of the Beaver Creek escalators
Photo courtesy of Ski Beaver
Blog Tools
Comments
PermaLink
A New BFF for My Burrito
By Brook Portman
August 5, 2008 — Many people strive for important things in their life which will make them feel like they are living an accomplished, productive lifestyle. Some find this within promotion goals at work. Others find it within their personal lives through travel and relationships. I however, have been on a quest to find a dessert that equals my love of burritos. This is, by far, the most imperative task I have ever undertaken in my life. It now beats out owning a scooter, because I accomplished that through tears and prostitution.

I have feasted on several burritos, only to follow its deliciousness with a dessert of some type that has lead me to feel like I have let down my little burrito. I mean, all this burrito did was love me and gave me everything it's got.......delicious flavor, a full stomach, fond memories.......and what do I do? Throw it a crappy dessert and say "Here is what I reward you with...some piece of crap generic Reese mini cup".

I feel bad when I do it, but the burrito doesn't take this abuse laying down. Oh no, what does it do? Makes me fat and gives me a tummy ache. It really is a love/ hate relationship. Damn you burrito.

Well, several months ago I was skiing at the Beav and immediately noticed a new boy in town. This boy was a lovely little Gelato shop at the base of the escalators. I was intrigued, but prepared for overpriced disappointment. However, I promptly laid the groundwork to Dave in regards to trying the gelato shop at the end of the ski day. I laid it out by saying "Oh, gelato sure would be nice". And Dave would say "What?" clearly uninterested in my latest craving. And I would say "Gelato (firm tone)... that sounds good." And Dave says "Oh, aren't you fancy... you want gelato." And I say "Damn right I wants it. Gelato is frickin' tasty". And Dave says "Oh, we will get you some gelato princess, don't you fret." And then I say "Damn straight...gelato bitches."

And that is the end of our dialogue. Endearing and timeless, aren't we?

Well, after skiing and "apresing" (is that a word?) I had totally forgotten about the yummy dessert I had so desperately wanted earlier in the day. As we sauntered (well, more like lumbered) down the stairs and glanced to the right and I was immediately reminded of my one sole purpose at that place and time: To get me some gelato.

Frantically, I made some type of grunt meets whine to Dave and pointed at the shop. Looking back, I believe I resembled Lindsay Lohan at an attention convention, but I did not care. Sidenote: Does anyone even care that she is now carrying a lesbian card? I didn't think so I was pleased when Dave followed me promptly into get gelato and seemed almost as excited as I was. I tried to read the flavors, but was too overcome with excitement to be bothered by pesky things. If you can only imagine my delight when I was offered free tastes. I was like the first time I walked into the Grand Tasting at the Taste of Vail and was super glad I was wearing an adult diaper because I pretty much peed myself.

By the way, this place is called Rimini's and it pretty much rocks. There a so few things I think about on a regular basis that I can count them all on one hand and the rest of the time I am a blank canvas, but I find myself thinking of Rimini's SEVERAL times a day. I think it is because I have finally found a companion for my burrito in my stomach. Think of a naked David Beckham rolling around a grassy field, with rainbows and a Tom Petty's "Free Fallin" instrumental groove in the background, and that is pretty much how my stomach feels about this food marriage. Now if only Illegal Pete's would open a shop in the valley.........some call me a dreamer........



BTW - It is not overpriced and they give a solid local discount. And by solid, I mean "fist pumping, lock it in and head nod" solid.

Yawn....I am beat, hungry and out on any good thoughts. I leave you with this:
If the Cubs make it to the World Series, what will be the ratio of presidential ads vs. curse of the billy goat stories? It has to be 2:1. Is this really what America needs?



Comment on "A New BFF for My Burrito" using the form below