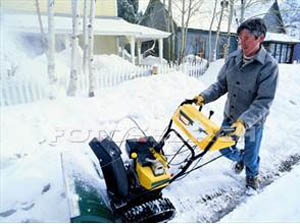 Blog Tools
Comments
PermaLink
Blow it out your snowblower
By Brook Portman
December 22, 2008 — It took me about three days until Christmas to finally get in the spirit, but like Madonna in concert, I guess better late than never (cone bras not included). I've been stressed about finishing my gifts, keeping the cats away from the ornaments, winning at online scrabble, filling out my college bowl pool, and of course, maintaining a snow-free driveway. It is exhausting. But finally, as of today, as it dumps snow for the 18th time this December, I am throwing up my hands, sending my gifts late, and sitting back with a brewski in hand. Crap, I have 86 friends on Facebook...what else does a girl need?

Perhaps another reason I am now in a good mood is I am done shopping for food in Walmart until after Christmas. Now you may say, "yeah yeah, it can get crowded." However, I dare any one of you, the reader, to step foot in the Walmart here in Vail between the days of Dec. 21st and Dec. 31st, and not find yourself in the belt section, contemplating if the rafters could hold your frantic, 10lbs-heavier-from-the-holiday-cookie-eating body. It is indescribable how utterly insane that place goes the minute the second home owners and tourists show up. I have witnessed grown women crying in the isles, being consoled by their children. It is not a place for the faint of heart.

I am also in a good mood because as I type, I have a brand new shiney snowblower in the back of my ride. Ladies and gentleman, boys and girls, gather around to witness the beauty that is Dave, by himself blowing snow into the street while I sit inside my warm home, at the window watching, with a glass of Van Duzer Pinot Noir in one hand, a foam finger pronouncing Dave as #1 in the other and a wickedly large smile on my face. Some dream big......I dream bigger…

(By the way, if that thing breaks down at any point during the winter, my tears may act as an acceptable substitute to salting the driveway).

I am a little stressed about one thing and I won't know the outcome until late in the day Dec. 30. You see, it is my beloved Ducks. You may not know, but they are in the Holiday Bowl in beautiful San Diego (that means "whale's vagina," in case you aren't privy) and they are facing a solid Big 12 team, Oklahoma State. It has been an interesting year for the Quackers and I have often referred to them as a "mediocre" football team. I am only one of 14 percent of bowl pool entrants in my local pool to have picked them to win. Even my own husband took Oklahoma State (but Illinois didn't even make a bowl, so I will forgive him as this little pool would be his only great victory). But I have seen signs of greatness and I am hoping for a repeat performance of last year's bowl, when most people thought we were dead in the ditch after the loss of Dennis Dixon (now I am sad again) and we whopped the s**t out of South Florida.

BTW, if you are looking for a bandwagon NFL team to jump on since the Broncos are bipolar and the Bears are the Bears, may I suggest the Carolina Panthers? I have to admit, I didn't pay much attention to them until about five years ago when my buddy Darden introduced me to the Cardiac Cat call. Even then, I paid attention, but loosely rooted for them. I didn't love them, I didn't hate them. I was forced to cheer for the Bears (and Sexy Rexy, minus the sexy part), but I find it to be like rooting for the Cubs-unrewarding and full of dispair. Would it kill the Bears to draft a QB?

Well, then two things happen. First, the Panthers drafted Jonathan Stewart. He is my second favorite Jonathan Stewart, behind the one of Daily Show fame. Are they not both beautiful? Does it not make you hungry for a soft-swirl fro-yo cone?

Secondly, Dave placed a 50:1 odds bet in Vegas last spring that the Panthers would win the Super Bowl. 50:1. (Brook reflects for a moment) That could really buy me some solid temporary happiness.......or at least a bitchin' decal for my scooter next spring.

Well friends, enjoy the holiday and enjoy the bowl games. We are sticking around here for the holidays and look forward to some solid skiing. If I can leave you will one holiday gift, it is this: Remember, when life hands you lemons, drop them in your vodka.

My charity never ends.


2 Comments on "Blow it out your snowblower"