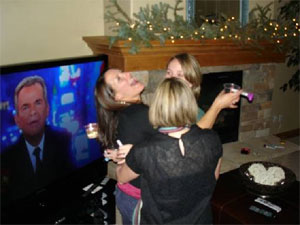 Blog Tools
Comments
PermaLink
The Year of the Ox
By Brook Portman
February 10, 2009 — Howdy stranger.

Remember me? No?

Well you don't have to get all Christian Bale on me now. I know it has been awhile, but yes, I am an amateur. No, no, I don't get paid for this. Foolish, I know....to waste all of this natural talent on a small group of elite readers. Listen, you don't have to make it personal. Sheesh, ok, I will try to write more often. Man, wear a diaper next time you are going to s**t all over the place.

Well doves, I gotta say 2009 has been nothing short of spectacular for the beaver of ski. First, before the New Year rang in, which by the way, was quite sad if you watched any of Dick Clark. The facial makeup, the dyed hair, the slurred speech, it made me uncomfortable. It reminded me of Britney's VMA performance 2 years ago......hard to watch, hard to look away. BUT, I am not here to talk of sad things. I am here to brag about my year. Crap, that is why I started this blog anyway.....so bored people at work would read about my craptacular life.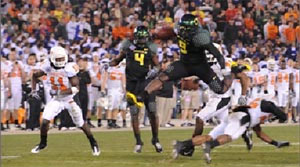 How's the view?

Photo courtesy of Brook Portman and University of Oregon Football
uoregon.edu
Anyway, before 2009 could kick me in the knee, the Quack Attack prevailed in arguably (well, I wouldn't argue with it, but I am sure some SEC fans would) one of the most exciting college football games of the bowl season. We looked like stank ass mixing in a blender in the first quarter, but luckily our defense helped keep the game close going into the half. Then, the Ducks lit it up in the second half, including our QB running into and over the defense and one of the sweetest runs of the season. Then, to cap it off, the Pac 10 won all 5 of their bowl games. I spent the next several days scouring the message boards listening to the various spins of why the PAC 10 won and Alabama lost to Utah. I'll tell you why....because Utah was a better team. The scary thing is our out of conference schedule for the 09-10 season is Boise State, Purdue and Utah. Ugg. Not even one gimme. Kudos for scheduling all D1 schools though.....kudos.

So, then came along the year of the ox. I felt like this year would be different, you know, with the exception to the recession, job loss, trillion dollar deficit, Obamamania. Well, this first big thing on the agenda for Ms. Skibeaver was LASIK. When I met Dave 9 years ago, I really had two purposes in mind to squeeze out of him: a shiny scooter and LASIK. As it has been well documented, I scored the scooter at the end of '07, so I was stunned when I was able to pull the double-double and land the LASIK in the early stages of '09. But low and behold, the roofies worked and Dave agreed to the expense. He made me sign a contract to not leave him after I saw what he actually looks like, but I have my attorneys working out that little detail.

So, while I was enjoying the laser light show involved in fixing my eyes, Dave went off to conquer another big feat for the household.....he purchased a MacBook. Thank god! Now, I swore I would blog more if I could sit on my ass in the living room, guzzling bottles of wine while watching 30 Rock and bond with you, the reader. But..... so far I having been doing it all of the above EXCEPT blogging, but instead rocking the Facebook scrabble. Man, scrabble rocks......oh, be right back.....I gots to play a word.

ZOOS. 36 points. Not bad....not a bad word at all......

My final accomplishment for early 2009 is by far the most surprising. If you have read any of my previous posts, I always ramble and wax philosophies about whether or not it would be worth it to lose 10 lbs and generally try to look better. I always thought it was a pipe dream and did not think I had the desire or will power to pull it off. Well, mostly thanks to Dave and his desire to drop to 175, I pulled off the miracle. I now officially weigh about what I did in high school. I would say I shaved off a good 9 lbs, which 6 weeks ago I would have deemed ridiculous. Granted, I still have an ass that won't quit, but what are you going to do about that, eh? I am still stunned. No jokes here ladies, I am actually pretty dang proud. What DID suck was giving up booze for 10 days. That, my friends, is stupid and will never be done again.



Well, I didn't mean to get you all jealous of my ginormous accomplishments. Wow, see, now I feel bad. Ok, I have to make this up to you. Hummm, what can I do. (Stares at ceiling, thinks about Tuaca....gets thirsty...takes a shot) I know! Have you been just racking your brain about what to get that special valentine in your life? Or, do you rarely buy gifts, but think that this year maybe you should for your one true love? Or, are you single, and are just tired of your farts stinking up the car? Well then do I have just the answer for you. Do what I did, I pick yourself up one of these on the right -- A Flatulence Filter.....Finally!

Yes, it is a fart cushion. You can pick one up at gasbgon.com. I just gave one to Dave last night, because we have a new car and it is only a matter of time before it smells of moist ski gear and farts. I got him the one with the baseball motif, because I figured his balls could then be on his balls. Catchy, huh?

I will leave you with this video for the weekend. I think we can all relate:




1 Comment on "The Year of the Ox"