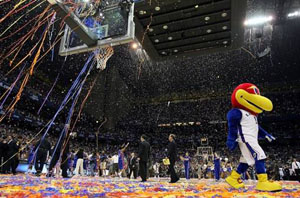 Spring is here! Should Punxsutawney Phil the groundhog be demoted to a cell with the Wall Street buffoons or should we just kick it and enjoy some basketball? Either way -- spring in Vail is here!
Photo courtesy of Brook Portman and NCAA
Blog Tools
Comments
PermaLink
Can you feel the Madness? Spring is here in Vail
Ski Beaver explores bracketology and important things in life
By Brook Portman
March 20, 2009 — The time has arrived. I try to fight it, particularly this year since my team only managed to win two, yes two, conference games, but yet I cannot resist its charm.

Ladies and boys, it has been spring-like in the Vail Valley now for eh, let us say, six weeks, so not only do I think that that little bastard Punxsutawney the groundhog should be demoted to a cell with the wall street buffoons, but I am also ready for something that FEELS like spring.

Yes, that would be March Madness. Like a moderately attractive 20-something teacher stalking an underage boy, this little gem happens every year. I am loving it.

March Madness is the time I throw at least 50 bones away to mediocre brackets and score squares. It is also the time Dave routinely throws 150 bones away in an auction that in my opinion might be worse odds than playing Keno.

Every year I get a little edgy with my banker and tell him that for once, would he stop throwing our money away at this terrible concept. But then, in his sneaky, all knowing ways, he prods me to imagine what would happen if the ONE year he didn't participate and his group won. How would that make him feel?

Well, last year I was determined to put my foot down and I all but pleaded for him to keep our 150 smackers safely in the bank. He defied me....jerk. And then he comes home to tell me they got Kansas. Frickin' Jayhawks.

Calm down, Jayhawks fans (and I know too many of you). I know you teach your children to say Rock Chalk Jayhawks before they say mommy and daddy and really, who am I to judge? Crikey, I get tears in my eyes just imagining my little bundle of joy (or misery) making his first "Quack".

But in recent memories, I have seen your team lose first round to Bradley and Bucknell. Two points to any reader who knows what city and state BOTH of those teams reside in.

Sooooo, what happened? Memphis decides to put a can over the hoop when they are shooting free throws AND decides not to foul with a three-point lead and seconds on the clock, only to have the Jayhawks send it into OT and ultimately land some bones in my pocket. And to think, that could have been the year we didn't throw our money away ...

... damn you, Dave.


Well, as I am sure you can guess, the next few weeks are full of monitoring games on my computer, highlighters, brackets and endless sports analysis. Throw in a chocolate doughnut and a case of beer, and I am just about as happy as I am ever going to be in life. Ever.

Ohhh, that song from the movie "The Girl Next Door" is on the radio at work. If you have never seen the movie, then I suggest you watch it. Hilarious if you ask me. And trust me, I am one of those people who don't really like going to the movies. It is the movie with Elisha Cuthbert, who likes to date hockey guys and who Dave finds to be really dreamy. Check it out on the left:

Wow, that was really off subject. I can't believe I just posted a hot girl on my blog. I must really be secure with myself ... or just like looking in a mirror (joke ... total joke people ... I am way hotter than Elisha ... right?).

Well, I must complete my brackets and dream of beer and basketball. Speaking of, I would like to give a shout out to my big bro, Lance. Wait this is my blog, so I WILL give a shout to my big bro.

His basketball team, the Willamette Wolverines, went undefeated in regular season play and won the Oregon 5A Girl's State Championship a little over a week ago.

I was stoked when Fox Sports Northwest (thank god we finally get the Fox Sports channels) actually broadcast the game on TV. Many of the girls are heading to the next level, and I couldn't be happier for him and his team.

Happy brackets!



Comment on "Can you feel the Madness? Spring is here in Vail" using the form below