The Bookworm Sez
RealVail Book Review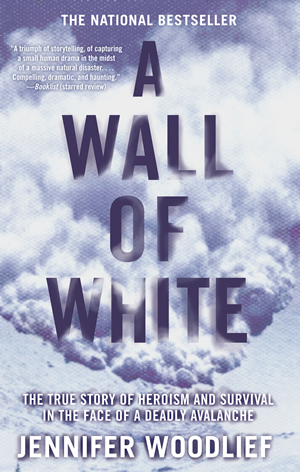 Blog Tools
Comments
Permalink
By Terri Schlichenmeyer
March 13, 2010 — For two solid weeks, you were practically attached to your television.

You couldn't get enough of the winter Olympics – snowboarding, speed skating, figure skating, bobsledding, luge…

And the skiing! Those athletes made it look easier than you know it is, with their jumps and mid-air twists, leaps and landings. You were treated to excitement every night, and (admit it) you even stayed up late to watch.

Fans of winter know that, while snow can be something to play in, it also calls for caution and extreme awareness. In the book "A Wall of White" by Jennifer Woodlief (c.2009, Atria Books - $15.00 / $19.99 Canada - 243 pages), you'll see how too much of a good thing can be very bad.

Just over the mountain from Squaw Valley, Lake Tahoe's Alpine Meadows has been a popular skiing destination since its establishment in 1961. Despite a Class A avalanche status (the "highest possible hazard designation"), Alpine Meadows offers easy slopes as well as challenging courses for skiers who love "extreme sports."

Each morning, long before most skiers awaken, patrol teams set out along the ridge near the resort to scout for dangerous conditions.

In 1982, the (mostly male) patrollers working at Alpine Meadow each loved the outdoors and skiing, and they loved blowing things up. Using dynamite to disarm avalanches was a major perk of the job for many of them, and when dynamite didn't work back then, a military-issue Howitzer was used.

But on the afternoon of March 31, 1982, nature took over the job.

It had been snowing heavily for four days. Because of the geography of the valley, the storm roiled, unmoving, and by that morning, over seven feet of snow had fallen on an existing 89-inch base. The snow came down horizontally. Visibility was measured in inches.

Below the mountain, employees of Alpine Meadows milled around, waiting for confirmation of a closing, waiting for the storm to end. In nearby condos, snow-bound-weary resort guests carefully emerged for food, fresh air, and information.

And then, from one of the patrollers via radio, came a string of communication. It was mostly unintelligible, but one word was clear.

"Avalanche."

Despite that I'm the kind of person who thinks "fireplace" when I hear the word "snow", my heart was pounding as I read "A Wall of White".

Author Jennifer Woodlief has a way of building up her narrative, and even though we know what happens, she makes it feel like an edge-of-the-seat, fresh shock. Readers will come to genuinely care about the people involved, and will experience sadness and jubilation at their outcomes.

The detailed explanations of avalanche-forming spoke to the science geek in me, which I completely enjoyed. Oh, and go ahead and sneak a peek at the pictures: there are spoilers, but not anything that ruins the tenseness of this well-done book.

Whether you're an outdoor enthusiast or you believe snow is best enjoyed from a cozy chair, "A Wall of White" is going to give you a new appreciation for white fluffy stuff. Now in paperback, this is a book you'll plow through in no time.



1 Comment on "Book Review: A Wall of White"

Submit and read more comments on "Book Review: A Wall of White" now!
---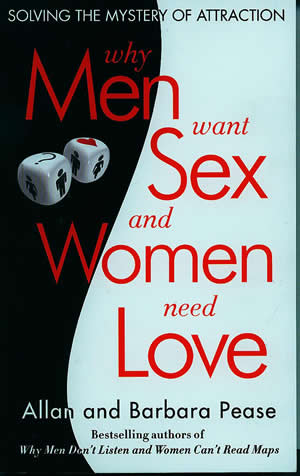 "Why Men Want Sex and Women Need Love" by Allan and Barbara Pease - c.2009, Broadway Books - $14.99 / $18.99 Canada - 265 pages
Blog Tools
Comments
Permalink
By Terri Schlichenmeyer
February 5, 2010 — When it comes to members of the opposite sex, it's all about numbers.

You want him to have a nice six-pack and bench-press 200 lbs. She should measure 36-24-36. He should be six-two. She should be five-eight. In either case, you want nothing less than a 10 with an IQ over 130.

And if you can't find your Number One? You end up feeling like a zero.

But why are we attracted to a certain eye color, a lopsided smile, or silky hair? Why do we lose our heads over a gorgeous body? Get some insight by reading "Why Men Want Sex and Women Need Love" by Allan and Barbara Pease.(c.2009, Broadway Books – $14.99 / $18.99 Canada – 265 pages)

Cinderella had a prince. So did Snow White, and Beauty had her Beast. From earliest childhood, we're subtly taught that A Special Someone is out there for each of us. Your mission was always to find him (or her).

When you've found that person, life feels perfect. You float, rather than walk. Your energy level zooms. You're incapable of thinking about anything or anybody else.

Have you lost your mind?

In a way, say the authors. Hormones flood wildly when you fall in love and scans show that your brain becomes addicted to the rush. Dopamine (the so-called "happiness hormone") surges. To say that you're crazy in love is quite correct.

But then, in about two years, reality sets in. He always wants sex. She's unappreciated. She talks about feelings but he never talks to her. Either might be having an affair. In fifty percent of all marriages, the topic of divorce comes up.

Again, you can blame it all on Nature. Humans are hard-wired to stay together just long enough to produce offspring. Furthermore, even though we're evolutionarily advanced, we still choose potential mates on the possibility of available resources.
So how can you make attraction – and love – last?

Know the seven basic kinds of love. Learn the six myths about cheating and the nine kinds of affairs. Understand that the opposite sex really does think differently than you. Cut one another some slack because you can't force change.

I had such high hopes for "Why Men Want Sex and Women Need Love". True, the information in this book isn't very new but, when coupled with scientific data and solid advice, it felt fresh. Authors Allan and Barbara Pease have written several (delightful) books in the past and this one is as highly researched as the others.

The problem is that the good is cancelled out by the bad: specifically, an overabundance of old, sometimes insulting and even horrifying out-of-place jokes and an awful lot of overgeneralization. I could have done without the former. I was often dismayed at the latter.

If you're looking for your One and Only and can separate the useful from the chaff, you'll like this book. But if you're seriously tired of being a Party of One, there are better relationship books out there. Either way, "Why Men Want Sex and Women Need Love" is a mere "five".


Submit a comment on "Book Review: Why Men Want Sex and Women Need Love"
---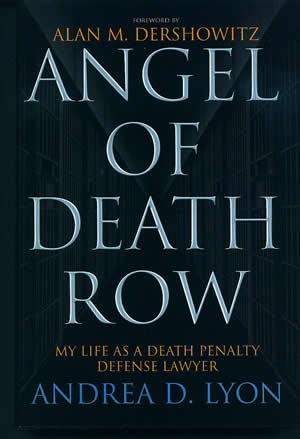 "Angel of Death Row" by Andrea D. Lyons, foreword by Alan M. Dershowitz - c.2010, Kaplan Publishing - $24.95 / $30.95 Canada - 267 pages
Blog Tools
Comments
Permalink
By Terri Schlichenmeyer
January 27, 2010 — You thought you knew your rights.

You've seen every episode of "Perry Mason" and "CSI" and watched plenty of courtroom-drama movies. You're pretty well-versed on criminal justice. You know what goes on in front of a judge.

So when you were arrested, you figured you'd be back at work, quick-like. No big deal. You didn't do whatever they say you did, you have a lawyer, and you're innocent until proven guilty, right?

Wrong. And in some states, that cockiness can get you killed, as you'll see in "Angel of Death Row" by Andrea D. Lyons (foreword by Alan M. Dershowitz – c.2010, Kaplan Publishing – $24.95 / $30.95 Canada – 267 pages).

Growing up in Chicago, Andrea Lyons was far from popular. She was the "smart girl" who corrected teachers and always had a book in her hand. Her assertive nerdiness made her the butt of jokes and teasing, which in turn gave her empathy for the underdog. Later, with a nod toward that empathy, she became a lawyer.

On a brazenly-gotten job interview, Lyons landed a job with the Public Defender's Office. Within a year, she found her legal niche: the Homicide Task Force inside the Public Defender's Office in Chicago. The Force was a man's world for sure, but Lyons quite handily proved herself.

Throughout her career, Lyons worked to save the lives of people in Illinois and Michigan who lived under sentence of death. Eventually, hoping to "replace" herself, job-wise, she became a teacher in order to pass her knowledge on.

While the names of clients have been changed, Lyons weaves personal biography with passionate work by recalling some of her most-memorable cases in this book...

Annette Gaines faced execution, charged with slamming a fist into her toddler's stomach and killing the girl. With careful sleuthing, Lyons proved that abuse didn't kill the child and that Annette was innocent.

Richard Bauman was also facing certain death, but before he agreed to allow Lyons to save his life, he demanded that she discuss classic literature with him. Astonished, Lyons turned his erudition into a way to connect with jurors.

And then there was Deirdre Jennings who sat in a Michigan jail, accused of a murder she didn't commit. While the case against her was weak, Jennings was caught in a judicial loophole that Lyons – with a fresh look – untied.

Think you've seen everything you need to know about courtroom trial? No, you haven't seen anything until you've read this book.

Author Andrea D. Lyons is feisty and can see the humor in many situations, but she's dead serious about saving the lives of men and women on death row, which makes this book both pleasant to read and an edge-of-your-seat real-life scare. Lyons explains what goes on behind-the-scenes in a life-or-death trial and in doing so, also explains why she works to save criminals that most people don't think are worth saving.

No matter on which side of the death penalty fence you sit, if you're looking for a book with humanity and heart, look for this one. For true crime or detective-TV fans, "Angel of Death Row" is positively heavenly.


2 Comments on "Book Review: Angel of Death Row"

Submit and read more comments on "Book Review: Angel of Death Row" now!
---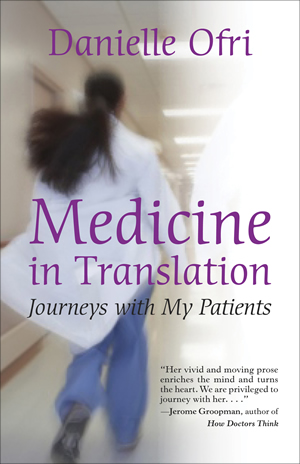 "Medicine in Translation" by Danielle Ofri – c.2010, Beacon Press – $24.95 / $32.95 Canada – 256 pages
Blog Tools
Comments
Permalink
By Terri Schlichenmeyer
January 10, 2010 — For several months now, you've been keeping a tight eye on Washington. This health-care debate has your attention and you've got definite opinions.

You've also got questions. How, for instance, will reform affect you and your family? Will insurance be cheaper or more costly, better or worse? And how will it affect your wallet when your taxes are used to insure the uninsured?

Before you dwell on that last concern, read "Medicine in Translation" by Danielle Ofri(c.2010, Beacon Press – $24.95 / $32.95 Canada – 256 pages). On this thorny issue, you may have already made up your mind. Then again, you may change it.

Every Monday after lunchtime, Dr. Danielle Ofri has an appointment with someone whose injuries are unimaginable. Registered with the Survivors of Torture program (or SOT), these patients have seen devastating horrors and their scars run far deeper than the physical.

There was Samuel, the victim of an acid attack. Mohammad, who felt imprisoned in the Land of the Free. A man threatened with death because he's gay. Another who witnessed the disemboweling of a friend. Victims of political or cultural wars, displaced from homeland and family. Ofri says that her colleagues care for these patients, too, but each doctor has just one or two a week.

Any more would be too hard.

As a physician at New York's Bellevue Hospital, Ofri cares for more than just SOT patients. Julia Barquero, a woman with devastating health issues, arrived in New York by walking through Guatemala. Elderly Dr. Chan left his frail, Alzheimer's-stricken wife in America when he returned to China, figuring she'd forget him soon anyhow. Juan Moreno, like many foreign-born patients, declined to participate in medical decision-making, preferring that someone in authority make the call.

Most of her patients speak English, more or less, but some require translators, which could be frustrating. More frustrating is the unknown: does someone legitimately need medication or is he dealing it?

Stressed and not wanting her children to grow up with a single-language handicap, Ofri seized the opportunity of a one-year sabbatical in Costa Rica. But when she learned she was pregnant, she also learned that language barriers can be overcome and that health care is not the same around the world.

Timely, beautiful, and heartbreaking, "Medicine in Translation" couldn't have been published at a better time. When it seems that health care (and lack thereof) is on everyone's mind, this book adds a quiet reminder of so much.

Author Danielle Ofri, herself the child of immigrants, writes with humanity, poignancy, and a shot of humor in this book. I was astounded at some of the stories that Ofri gently teased from people who would really rather forget, and I loved the way she wove her own journey in with that of her patients. I shuddered while reading this book, I smiled, and I can't wait for her next one.

If you're concerned about health care for the most hidden of society or if you just want a book to make you think, pick up this one. "Medicine in Translation" is just what the doctor ordered.


Submit a comment on "Book Review: Medicine in Translation"
---
Read More Blog Entries
Previous
Next
Last
Blog entry 5 through 8 of 47 total entries
Bloggers Profile and Information