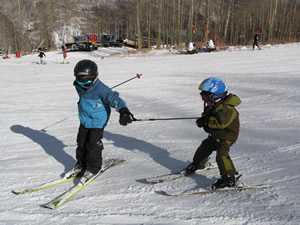 Nick and Max Williams stuck together on Vail's Born Free run on opening day Wednesday, Nov. 21.
By David O. Williams
Blog Tools
Comments
PermaLink
Opening day made more interesting with a 4-year-old
By David O. Williams
November 22, 2007 — If you want to put a whole new twist on opening day, especially one with limited snow and limited terrain, take along a four-year-old.


I spent part of the afternoon on Vail's only open run, Born Free, with my sons Nick and Max. Nick, 7, was clearly in his element and wanted to turn his new skis loose on the firm, mostly manmade snow (although I should note it was somewhat softened by 4 inches of new snow the night before).


But being the good big brother that he is, Nick patiently helped his little bro work his way down the long and occasionally steep – by Max's standards at least – intermediate slope in the Lionshead area of Vail.


And to his credit, after initially balking at conditions, the steepness and the crowds, Max rallied and managed to have a good time on the lower two-thirds of the slope. Needless to say, starting your little guy's season off by literally throwing him into the deep end probably isn't the best way to go.


Still, a good time was had by all, and on the bus ride home Max was wondering when Day 2 would be. I explained to him that I was already on Day 4 (at five different resorts), quite a feat given the snow-challenged state of the season so far. He didn't seem particularly impressed.


Looking ahead, there's a slight chance of snow Friday, although that storm is headed mostly toward the southern part of the state, and the good news is the temps have dipped into the much more November-like 20s and 30s during the day – much better for sustained snowmaking.


Comment on "Opening day made more interesting with a 4-year-old" using the form below