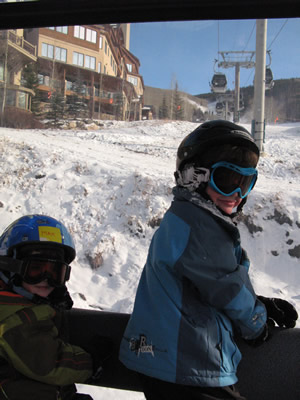 The 'buck' at the Beav. Nick and Max whisk along to the "top" of the Beav's beginner area and Haymeadow.
Photo by David Williams
Blog Tools
Comments
PermaLink
Beaver Creek opens with new family-friendly gondola
By David O. Williams
November 23, 2007 — Beaver Creek finally cranked up its lifts Friday, a couple of days after its originally scheduled opening of Wednesday, Nov. 21. Better late than never I always say.


In fact, local families or skiers in town with small kids will likely find it worth the wait. Beaver Creek opens with the new beginner Buckaroo Express Gondola online and the famously family-friendly Haymeadow run. The only other run opening today at the Beav is the intermediate Latigo trail.


Until Vail is able to open more terrain – and recent cold temps and a bit of natural snow should aid that process – its only open trail, Born Free, is a bit tough for younger skiers. Beaver Creek should offer a slightly less nerve-wracking experience with little ones (see Wednesday's O. Report).


"Our snowmaking and grooming crews are taking advantage of both the recent cold temperatures and natural snowfall to provide a good snow surface over the holiday weekend," John Garnsey, chief operating officer for Beaver Creek, said in a release. Beaver Creek was reporting 8 inches of new snow in the last 48 hours as of Thursday afternoon.


The new gondola is 1,671 feet long with 10 towers and a ride time of 3 minutes, 45 seconds. It replaces the old Haymeadow chairlift and can carry 1,665 people per hour.


"Kids learning to ski and snowboard will find a customized and more comfortable mountain experience with the new Buckaroo gondola," Pete Sonntag, director of the Beaver Creek Ski and Snowboard School, said in a release.


After a day on the slopes, hit the 27th annual Tree Lighting Ceremony and Gingerbread House Competition in the evening. Free ice skating is offered in Beaver Creek Village through Nov. 25.


The only hitch is passes are restricted today and Saturday due to the limited terrain, and day passes are going for $59 for adults and $39 for kids 12 and under. As a result, and in a bid to do something different, we're headed to Moab, Utah, tomorrow, where I hope to blog next from the land of Edward Abby.


Stay tuned, and remember, early-season conditions definitely do exist, although there may be some light snow rolling in today.


Comment on "Beaver Creek opens with new family-friendly gondola" using the form below