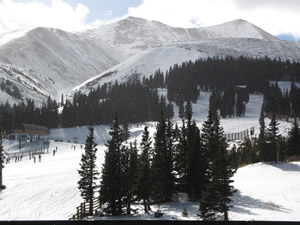 Breckenridge had decent conditions and a solid terrain park on Monday, and was the big winner overnight Tuesday with nine inches of new snow.
Photo by David Williams
Blog Tools
Comments
PermaLink
Snow in the forecast for the rest of the week
Terrain still limited but slowly starting to come around
By David O. Williams
November 28, 2007 — Slowly, painfully, a ski season is starting to take shape in the Colorado Rockies.


It's been a bit like trying to get juice from a potato so far – wringing moisture out of these damnably sparse clouds passing over the valley the last few weeks – but ski runs are slowly starting to open.


As of Wednesday, Nov. 28, 14 Colorado resorts are open for business, but barely, with three more joining the bone-dry fray Friday and two more on Saturday.


Most resorts are boasting only a couple of runs and in some cases some decent terrain parks (Copper Mountain is even offering a respectable superpipe), but the slow start to the season may dramatically pick up its pace the rest of this week.


Up to four inches of fresh snow was expected overnight Tuesday, Nov. 27, into Wednesday, and then the white stuff is in the forecast for the central mountains the rest of the week – with possibly significant accumulations by the weekend and highs in the 20s and 30s all week.


Powder is bad news for World Cup ski racers descending on Beaver Creek for the Birds of Prey races Thursday through Sunday, but good news for recreational snow riders confined thus far to doing high-speed laps on WRODs (white ribbons of death) around the state.


I will say, though, that these things are all relative. I grew up skiing in Western Pennsylvania (Blue Knob, to be precise) where the six ski days I've enjoyed thus far this season (at seven different resorts in the state) would for the most part be considered epic.


Monday I spent the day at Breckenridge with my brother-in-law and oldest son, pounding out 10 cruisers on the Bonanza run. To hardened skiers that might sound a bit painful, but when your kids is out of school, tearing it up at Breck beats the heck out of hanging out at home.


We wound up having a really fun day, and for the first time this season I can actually claim a little leg burn. Breck is offering a pretty decent product given the circumstances, and their terrain park was in solid shape.


Of course, we're all hoping the stingy skies open up in coming days, and I'm especially hoping my seventh day out this season is a soft one.


Comment on "Snow in the forecast for the rest of the week" using the form below