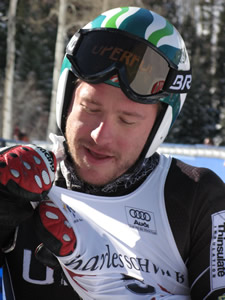 There was a Bode sighting Tuesday at downhill training at Beaver Creek, but Miller promptly ditched the gathered media horde. Wednesday's training was cancelled due to six inches of new snow overnight.
By David O. Williams
Blog Tools
Comments
PermaLink
Fresh snow good news for skiers, bad news for racers
Defending World Cup champion Svindal out after nasty crash in training
By David O. Williams
November 28, 2007 — Funny thing about World Cup ski racers is they don't like powder days.


Well, actually they like them just fine on an off day when they can rip it up with the boys, but on training or race days downhill racers especially don't like to see any fresh fluff. They prefer a vertical ice rink ideal for achieving speeds of up to 80 mph and potentially hundreds of feet of air.


Wednesday's downhill training on the Birds of Prey course was scrapped due to six inches of new snow overnight. Their loss is definitely our gain. Look for snow to continue throughout the rest of the week and more trails and lifts to open up in time for the weekend.


But the snow should hold off long enough to get in Thursday's super-combined (one run of downhill and one run of slalom). The downhill goes off at 11 a.m. (shuttle buses only to the Red Tail finish area since there's still not enough terrain open to ski there yet). The races are free and open to the public.


The bad news, though, is the man who won last season's inaugural super-combined on the Birds of Prey, reigning overall World Cup champion Aksel Lund Svindal of Norway, definitely won't be able to defend his Beaver Creek title and may not be able to defend the overall crown.


That's because of a nasty crash in Tuesday downhill training that cost him several teeth, a broken nose and opened a deep gash in one of his legs (courtesy of one of his ski edges). Svindal, who already had two wins this season, including Sunday's super-G in Lake Louise, Canada, lost it coming over the Golden Eagle jump and had to be transported to the Vail Valley Medical Center.


Norwegian race officials say Svindal will be out an undetermined amount of time and definitely will not race at Beaver Creek. While that might seem to be good news for American hopefuls, it's actually a real bummer for ski-racing fans.


Svindal is a good-humored 24-year-old who kicked back at a press conference after last season's win at Beaver Creek and pontificated on being the new Norwegian on the block after years of success here for his more-famous countrymen, Kjetil Andre Aamodt and Lasse Kjus.


Svindal was supposed to do a 2 p.m. ski-down with fellow Longines ambassador and tennis great Andre Aggasi Wednesday at Beaver Creek in a fundraiser for Agassi's charitable foundation and as a promo for the Swiss watch company. No word on whether the American grand-slam great will snowboard the hill solo.


Of course the big news out of all of this is that the snow is finally falling in earnest. Vail reported four inches new overnight and it was still snowing at 10 a.m., with another three inches on tap. Breck was the big winner statewide with nine inches new overnight.


I've always said, if you need some fresh snow, schedule a World Cup race. Don't worry, though, the races will go on. Last year it was cold and snowy and everything went off without a hitch (mainly due to the world's best mountain ops, race crew and army of volunteers). And race fans were even able to enjoy some fresh pow between events.


Speaking of events, after Thursday's super-combined, the place to be is Beaver Creek Village, where Cracker will headline a bid party for the 2013 World Alpine Ski Championships. The band goes live at 5, but the party gets going at 4:30. The first 500 people on the free shuttle bus (between 4 and 5 p.m.) from the base of the mountain get a voucher for a free drink – beer, wine, soda, water, you name it. Then jam to Cracker while the kids enjoy free ice skating in the Village.


Who knows, you may even run into Bode Miller as he weaves through the crowd in an effort to duck the local press (he stiffed the gathered journos after Tuesday's training run). Oh well, as long as he defends his downhill title from last year, all is forgiven. This year's downhill is scheduled for 11 a.m., Friday, weather permitting.


Comment on "Fresh snow good news for skiers, bad news for racers" using the form below