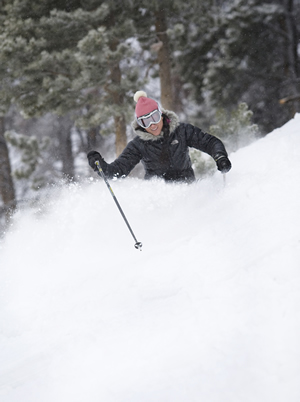 Vail's Darcy Zimmerman gets first tracks on Bwana Wednesday, Nov. 28. Vail Mountain expanded its terrain to 175 acres thanks to more than six inches of new snow.
By Jack Affleck/Vail Resorts
Blog Tools
Comments
PermaLink
Vail opens another lift, more terrain
Beaver Creek tallies 10 inches, Vail 6, with more on the way
By David O. Williams
November 28, 2007 — When word came down Wednesday morning that World Cup downhill training had been cancelled at Beaver Creek due to six inches of fresh snow overnight (another four fell during the day), I did what I hope any self-respecting ski journalist – or ski racer, for that matter – would do. I grabbed my skis and headed for the hill.


I was greeted on my seventh day of the ski season not by a powder day, but at least what I was hoping and praying four after Day 6 at Breck on Monday: much softer snow beneath my boots.


Vail received four inches of white gold overnight Tuesday and another two inches during the day Wednesday, allowing them to open the Pride Express Chairlift and some more runs in the Lionshead area of the mountain.


It is now possible to ski from the top of the Eagle Bahn Express Gondola to the base of Lionshead, and parts of Bwana, Simba, Cheetah, Safari and Born Free are open, as well as the fantastic beginner area at the top of the gondola (so the kiddies can stay out of the fray).


That's more than 2,200 vertical feet if you're counting and more than doubles the skiable terrain from 76 acres to 175. Given the fact that the entire front side of the mountain has been open by this time of year the last two seasons, it's seems a bit silly to crow about only 175 of more than 5,200 acres being open. But as dry as it's been lately, believe me when I say this is cause for celebration.


As is the weather forecast calling for more snow Thursday afternoon and on into the weekend. I didn't make it for the "rope drop" on Bwana (see picture accompanying this blog) but I can tell you it was fun to turn my skis loose on slightly softer, somewhat more natural snow over more than 2,000 vertical feet, and if the snow in the forecast comes through, we'll be talking about much more significant rope drops in the coming days.


Now back to the ski races (see story in Real Sports and my previous blog below).


Comment on "Vail opens another lift, more terrain" using the form below