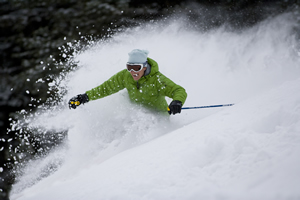 A few lucky ski models got into the goods Thursday at Vail, where 14 lifts and 550 acres will be open by Saturday, with up to 8 inches of new snow in the forecast.
By Jack Afflect/Vail Resorts
Blog Tools
Comments
PermaLink
Weekend feast of freshies headed our way
Storm will produce more in state's southern mountains
By David O. Williams
November 30, 2007 — Finally things are starting to get rolling on Vail Mountain.


A midweek blast of 6 inches of new snow, much colder temps ideal for snowmaking and a weather system expected to deposit another 8 inches Friday into Saturday have all conspired to allow Vail to crank up 14 lifts serving 550 skiable acres by 9 a.m., Saturday, Dec. 1 (see Real News for more details).


No longer will snow riders be confined to Lionshead but instead will be able to move over into Mid-Vail (Chairs 2, 3 and 4 will open) and on down into Vail Village where the Vista Bahn will be in action. More terrain is also expected to come online at Beaver Creek by the weekend, so stay tuned to the O. Report.


The big winners in all of this, though, appear to be our southern ski brethren – places like Telluride (open but barely), Durango (opening TBD) and Silverton, which is likely to open Saturday with a foot or two of fresh (see story in Real Travel). Make no mistake, this is a southern storm, and they should be measuring with a yardstick rather than a mere ruler.


All we ask for here in the Vail Valley is that fresh, soft feeling under our feet once again, and it looks like it's on its way.


Comment on "Weekend feast of freshies headed our way" using the form below