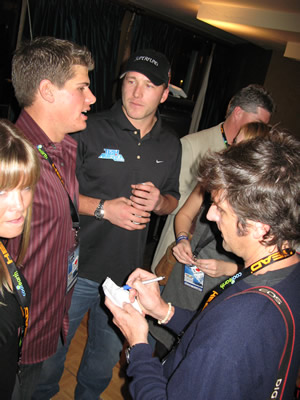 www.skispace.com launch party at Rocks Modern Grill in the Beaver Creek Lodge." />
Bode Miller works the crowd Saturday night during the
www.skispace.com
launch party at Rocks Modern Grill in the Beaver Creek Lodge.
Blog Tools
Comments
PermaLink
Bode kicks off skispace.com, brings big snow to the Beav'
Nearly 2 feet this week and the races still rolling
By David O. Williams
December 2, 2007 — Bode Miller should launch a new website every night.


The Bodacious One held the party of the week so far at Rocks Modern Grill in the Beaver Creek Lodge Saturday night and all the heavy hitters of the ski industry turned out to fete America's second most winning ski racer of all-time and get the beta on his new site, www.skispace.com – a social networking site for skiers.


With Bode and about 15 of his family members from the Franconia, N.H., area out in force, skispace execs rolled a video of Bode travelling in his RV, chasing would-be hubcap thieves down the streets of NYC naked, drinking with his masseuses from a mug that read "I hope you're still hot when I'm sober," and generally satirizing all the criticism lobbed his way in recent years.


It was a raucously funny kickoff to the evening and underscored skispace's mission statement of bringing back fun, craziness and spontaneity to the ski industry. If the launch party is any indication, skispace is right on track.


And the best part of the evening is that while the drinks were flowing inside, with other Head ski luminaries such as the second most winning ski racer of all-time, Hermann Maier, out in support of Bode and his new Team America, the snow was piling up outside – a total of 15 inches in the last day or so.


That's on top of the six inches that cancelled downhill training earlier in the week. Sure, it was more of a southern storm, dropping whopping amounts of three to four feet at areas like Silverton and Wolf Creek, but we did all right here in the Central Rockies, no doubt leading to some significant terrain openings in the coming days. Bode must have been doing a serious snow dance into the night.


I'll get out into the goods Monday morning to give you a full report, but in the meantime the races are still in full swing Sunday and Monday. The giant slalom wraps up with a second run at 12:45 p.m., Sunday, and the super-G postponed due to excess snow on Saturday concludes the week of World Cup action Monday at 10 a.m.


Get out, ski the pow, and watch the world's best racers rip it up on the Birds of Prey.


Comment on "Bode kicks off skispace.com, brings big snow to the Beav'" using the form below