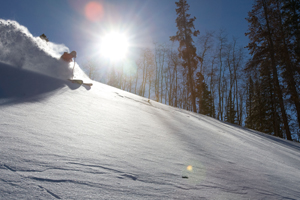 Conditions were prime Dec. and 3 at Beaver Creek as the ropes dropped on Rose Bowl (photo taken Dec. 2).
By Liam Doran/Beaver Creek Resort
Blog Tools
Comments
PermaLink
Powder days, ski racing not necessarily mutually exclusive
Busting a move on Ripsaw before the men's super-G
By David O. Williams
December 3, 2007 — The thing about ski racing is that I never did it as kid, and while I enjoy running the occasional Nastar course, for the most part I canít entirely relate to achieving speeds in excess of 70 mph on a vertical ice rink.


For me, and most recreational skiers, the sport is about avoiding ice and hardpack. I admire racers and think they have mad skills and cojones the size of basketballs, but give me untracked powder any day.


Strangely, some of my best powder days often occur in and around World Cup ski races. In the early 1990s I was covering a menís downhill in Aspen when American AJ Kitt was leading during a snowstorm only to have the race cancelled out from under him.


I felt bad for Kitt but elated for myself, since I then proceeded over Aspen Highlands and went nuts in 15 inches of fluff. Similarly, at the 2006 Olympics in Sestriere, Italy, I skied the GS course with a foot of fresh on it, weeks before the race.


Then Sunday evening I get the email that Beaver Creekís Rose Bowl was opening for the season Monday at 9 a.m., just before the 10 a.m. start of the menís super-G. This was the same super-G postponed Saturday due to too much snow falling on the Beaví the past few days.


You see my dilemma. How was it solved?


Quite simply. I got on the first chair at 9 a.m. and made it down Ripsaw for my first glorious powder run of the young season. Then I hightailed it for the shuttle and made it for the first racer. It was my eighth day on skis so far this season, so thatís a bit longer than I prefer to wait for some soft stuff under boot.


But better late than never is definitely the rallying call for this season, and with more snow in the forecast for Wednesday, look for much more terrain to open up by next weekend at both Vail and Beaver Creek.


Comment on "Powder days, ski racing not necessarily mutually exclusive" using the form below