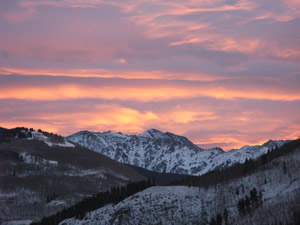 This has nothing to do with the content of the accompanying blog but isn't it pretty? It's sunrise over the Gore Range as viewed from my West Vail deck cam.
By David O. Williams
Blog Tools
Comments
PermaLink
Vail in crosshairs of serious storm cycle
Front Range pass products back on sale for one weekend only
By David O. Williams
December 6, 2007 — OK, now weíre talking.


Not only did the storms last week and into the weekend save the early season with more than 2 feet of a wet base layer on top of virtually nothing up to that point, but now we appear to be in a snow cycle the next few days that flies in the face of La Nina conspiracy theorists who claim weíre in for a dry winter.


Vail received 4 inches overnight Wednesday and into Thursday morning, and weather.com is calling for another 3-5 inches during the day Thursday, another 3-5 Thursday night, 2-4 Friday and additional accumulations expected Saturday and on into Sunday.


Vail now has the most terrain in the state open, with 15 lifts serving 67 trails spread over 1,004 acres. The base is now legitimately up to 20 inches, and much more terrain is expected to come online by the weekend. The Beaví got 3 new on an 18-inch base and now has 39 trails, 514 acres and 5 lifts running.


The fear factor has gone out of the season and everyone now knows weíll be fine for Christmas, and perhaps more than fine if the current storm cycle continues. If you cancelled a trip in November when we were high and dry, first of all, shame on you for having so little faith in the snow gods, and secondly, get back on the horn and re-up before the rates hit the roof. Or just go to www.visitvailvalley.com.


If youíre reading this on the Front Range, youíre psyched because Vail Resorts is taking advantage of all the snow publicity to put its season pass products back on sale at fall prices through the weekend.


That means Friday through Sunday you can drop into any Front Range Colorado Ski & Golf or Boulder Ski Deals and get a Colorado Pass (unlimited at Keystone, Breck and A-Basin and 10 restricted days at Vail and Beaver Creek) for $449 for adults. The Summit Pass, Colorado Pass PLUS and Keystone-Arapahoe Basin Four Packs are also on sale.


For more beta about the passes or to renew last seasonís pass online, go to www.coloradopass.com or call (888) 215-3867. Thereís seriously no better deal in all of ski country. If I didnít live up here and already have a pass, Iíd be all over it.


And, of course, they canít discriminate geographically. My brother-in-law in D.C. bought a Colorado Pass last spring and has already hit it hard. Thing is, you canít buy it online, only renew an existing one.


So if you live out of state and have been thinking about a quick trip out this way, this would be the weekend. Fly into Denver if you can get a cheap standby ticket, pick up your Colorado Pass and head on up for some deep snow and kick-ass music. Vail Snow Daze is bringing some killer shows to town this weekend (see Boydís Blog and Real A&E or go to www.vailsnowdaze.com).


My goal is to get on the hill later today and check out Vail, which I havenít skied since a mere 100 acres were open just last week, then Iím heading over to Aspen Friday for the womenís World Cup downhill (Vailís Lindsey Vonn is favored Ė see Real Sport story) and get in a few turns over there for a head-to-head Aspen/Vail ski-product comparison.


If the road conditions arenít too gnarly, Iíll be able to pull it off. Stay tuned.


Comment on "Vail in crosshairs of serious storm cycle" using the form below