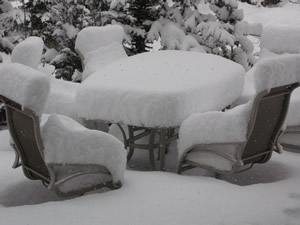 The West Vail Deck Cam reveals a pile of fresh snow Friday morning, with more on the way throughout the weekend.
By David O. Williams
Blog Tools
Comments
PermaLink
First major powder day of the season
Foot of snow nails Vail, postpones women's downhill in Aspen
By David O. Williams
December 7, 2007 — Just a quick blog to let you know that if you donít believe snow reports like the one from Ski Country USA on this page stating Vail got 10 inches of new snow and Beaver Creek picked up eight, youíre right to be skeptical.


In fact, as you can see from the West Vail Deck Cam, those totals should be much higher. Theyíre taken at 5 a.m., and I can say for fact that weíve had a few inches more since then. And thatís on top of four inches the day before. The Back Bowls open Saturday, Dec. 8, so all is right with the world.


But not the World Cup. The womenís downhill in Aspen has been postponed, and that means Iím headed up to Vail as soon as I deposit all my kids in various daycares, grade schools and ski schools.


Iím moving a little slow owing to the furious party schedule of late Ė Millennium Society fundraiser last night followed by the fabulous opening of Spago in the Ritz-Carlton Bachelor Gulch, with Wolfgang Puck in the house (more on that later) Ė but Iím rallying to go out and get the beta on the biggest storm of the season so far.

I owe it to all the loyal RealVail readers.


Comment on "First major powder day of the season" using the form below