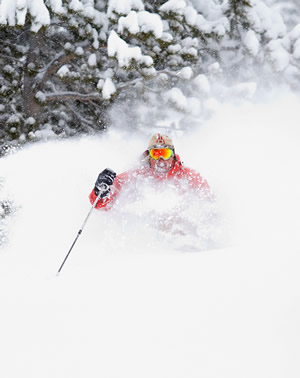 The pow was nearly a foot and a half deep in the Back Bowls of Vail Friday ... and it's supposed to snow through Saturday night.
By Jack Affleck/Vail Resorts
Blog Tools
Comments
PermaLink
Snow just keeps coming; Vail opens Chair 5
Winter Storm Watch in effect through Saturday night
By David O. Williams
December 7, 2007 — Day 9 of my 07-08 ski season was notable not for how epic it was (and it was fairly epic) but how epic it could have been.


I headed up on Vail Mountain Friday morning after learning the women's World Cup downhill in Aspen was cancelled due to the dumping they experienced over there. That saved me a two-hour drive in a blinding snowstorm.


The downhill has been postponed till Saturday at 10:45 a.m., and the super-G originally scheduled for Saturday has been cancelled. Sunday's slalom is still scheduled for a 10 a.m. first run and a 1 p.m. second run.


See, if you need snow, schedule a World Cup race. Heavy snow last weekend postponed the men's super-G at Beaver Creek. Anyway, back to the conditions at Vail, which reported 10 inches new at 5 a.m., but has received at least another 6 or 7 inches during the day. That's on top of 4 inches Thursday morning.


So I headed up the Vista Bahn a lift ride or two behind some friends and never really caught up (no friends and no waiting on powder days). I explored the trees under Chair 4 to good effect, then jumped into North Rim and found some very fresh pockets.


On a whim I skied on past the bottom of Chair 11 to see if for some reason they had opened the new Chair 10 Express, but when I got to it I could see no one was on it and therefore no one had skied Log Chute. There were maybe a dozen tracks, so I hit that even though I had to take cat tracks all the way back to the Vista Bahn. It was totally worth it.


Then I headed back up and did a couple of runs in the trees below Kangaroo Cornice and on into Look Ma, but I was still unable to catch up to my friends. So I did one very nice run in Farrow trees and down into Game Creek Bowl. It was still very sweet and a foot deep at 12:30.


Then one more Kangaroo Cornice, up Chair 4, back down North Rim and Log Chute, off the mountain and home: six runs in a little under two hours and feeling pretty good about myself.


Then my friend calls from the mountain: "Did you get it?"


"Get what?"


"They dropped rope on Milt's, Chair 5 opened up."


"Aaagh, I'm home already, thanks for the call."


"Dude, everyone knew."


Actually, I had no idea. I thought they might open something in the Back Bowls with all of the fresh snow but they put out a release saying Saturday and I bit hook, line and sinker. Then my buddy rubbed it even more by saying he got out into Forever, which may or may not have been open. I'm thinking of reporting him to patrol.


Anyway, it was still a pretty killer day, and not very crowded. Saturday will be a mob scene with parts of all the Bowls open, including China Bowl and Blue Sky Basin, bringing Vail's total to 145 trails and 3,500 acres.


And a Winter Storm Watch is in effect till 6 p.m. Saturday with snow showers expected to continue through Tuesday. Get up there if you can.


Comment on "Snow just keeps coming; Vail opens Chair 5" using the form below