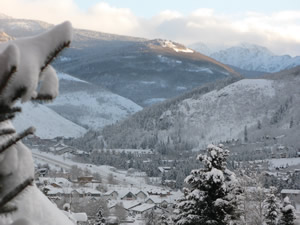 The West Vail Deck Cam reveals a serene winter wonderland looking east toward Vail Mountain and the Gore Range.
By David O. Williams
Blog Tools
Comments
PermaLink
Perfect 10: my 10th day of the season a powder paradise
Forecast calls for periods of snow all week in the Vail Valley
By David O. Williams
December 9, 2007 — The vast majority of Vail is now open for business – and in dramatic fashion.


Day 10 of my ski season (that's right, now into double digits) began Saturday morning with the mass hysteria of Vail on a weekend powder day (nearly 2 feet of new snow since Thursday night) after it was announced the day before that the Back Bowls would open.


Adventures in busing got my son Nick and me to Golden Peak Ski School a little before the lifts opened at 9. I dropped Nick with his Vail Devo team and immediately jumped into the single's line at Chair 6, which had just opened for the season.


That line went surprisingly quickly, as did the transfer over to Chair 11 and up to the top of the mountain. From there I plunged into Sun Down Bowl and one of my favorite lines on the mountain, Wow trees.


Staying skier's right of the actual run I charged through a foot and a half of fluff (with a few logs and stumps sprinkled just under the surface). Be careful if you head into the trees this time of year, even with all the new snow. There are still surprises, and you need to stay light on your boards.


As I burst out of the trees and over the rock band toward Windows, I realized just how little snow we had in November. Even with nearly 4 feet since the end of the month, rocks are still cropping up all over.


But I opted to just blow over the rock band since I was pushing two feet of snow in front of me, and my skis sustained only minimal damage. Then it was down the nearly untouched ridgeline, into the aspens and onto the road.


The line at Chair 5 was only about 15 minutes at that point of the morning, but I knew another foray in would lead to at least a half-hour wait on the slow triple, which Vail wants to replace next summer with a high-speed quad (hallelujah).


From the top of Chair 5 I sped down Zot and found wonderful snow in the trees and along the sides of the run. Up Chair 3 at that point and over to the top of the gondola, where I waited around for a half hour or so for Colorado Sen. Ken Salazar to show up and say a few words at a ceremony to recognize the new SOS Outreach group, formerly Snowboard Outreach Society (more on that in a Real News story later today).


From there I took a spin down Minnie's (virtually untouched) with a friend of mine from the Denver Post, Scott Willoughby, and couple of ski industry luminaries. Then Willoughby and I peeled off and jumped back into Sun Down Bowl, figuring by then the crowds would have moved on to China Bowl and Blue Sky Basin – also opening for the first time this season.


Seldom was thigh deep, and there was nobody around, confirming our decision to risk Chair 5 again. But then we found out why there was nobody in the bowl. They were all in the lift line. Forty-five minutes later we opted to do a couple of front-siders and call it a day.


It was worth jumping back in but I wouldn't have done it again. Still, two stellar runs in the Back Bowls more than made up for me missing the rope drop the day before.


And it looks like the good times will just keep rolling. With our base jumping from a foot and half to more than 3 feet in a week, things will only get better. The forecast calls for periods of substantial snow through Tuesday and the possibility of snow showers until Friday.


Comment on "Perfect 10: my 10th day of the season a powder paradise" using the form below