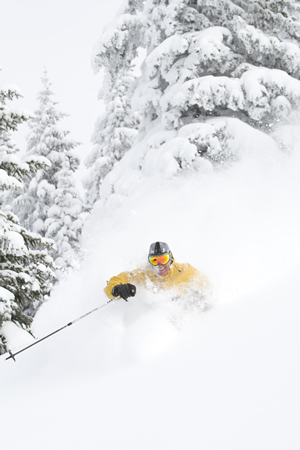 Blog Tools
Comments
PermaLink
Latest storm delayed but freshies keep falling in general
By David O. Williams
December 14, 2007 — So, I'm little bummed out (a term eerily similar to bumped out – a condition that occurs due to a lack of powder) because I expected to wake up this morning (Friday, Dec. 14) to at least a few inches of fresh.


Forecasters were calling for 5 to 10 overnight for the northern and central mountains and it looks like they came through for the northern (Steamboat was reporting 6 new), but we had a trace to nada by 5 a.m. in the central.


It had started snowing lightly as of 7 a.m., so maybe the storm's just a bit delayed and will hammer during the day, just in time to make the roads interesting and the skiing worthy for the weekend warriors on Saturday, when Vail opens up almost fully for the season, adding Inner and Outer Mongolia and Siberia bowls and a jib and rail park at Gold Peak.


If you're counting, that's 5,103 acres, 191 trails and 27 lifts, by far the most in the state. Vail will also open a half hour earlier on Saturday, cranking up the lifts at 8:30 a.m., and families now have another option with Adventure Ridge opening for the season atop the gondola.

For the uninitiated, Adventure Ridge offers all sorts of non-skiing stuff during the evening, such as a multi-lane tubing hill; kids snowmobiling at "Blizzard Speedway"; rebound trampolines; ski biking and snowshoe tours.


So if the weather gods cooperate, mom will have all the shopping and dining she needs in Vail Village and Lionshead, the kids can kick it on the mountain then head to Adventure Ridge, and the skiing will be fat and nasty for dad.


And speaking of fat and nasty (no, this is not another Jennifer Love Hewitt blog – I think she looks great in a bikini and has since her "Party of Five" days), I was hoping to get out on the hill today for a repeat of Day 11 of my '07-08 ski season, which had me humming the new Keller Williams song "Freshies" all day.


Day 11 (Wednesday) started with my obligatory kid drop-off at daycare then a B-line to the Vista Bahn, expecting massive crowds because of 8 inches of frozen smoke that dropped in seriously chilly air the night before.


Then I remembered it was a mid-week pow storm in mid-December, pre holiday crowds, and skied right up to the chairlift. I rode the VB to Mid-Vail, jumped on Chair 4 and just like that found myself making first tracks down Forever (figure 11's on Day 11).


Up Chair 5 and back down the front side (Powerline to Look Ma to Spruce Face to International) with fresh tracks the whole way and I was back in the Village: two runs and done. I had a meeting at 10:30 and so my car was in the parking structure for less than an hour (an hour and a half is free, and if it's free, it's for me).


I got another run later in the day at around 3:30 when I went to pick up my son Nick, whose second-grade class was doing back-to-back ski days through the Eagle County School system (gotta love growing up in the mountains). The mountain was still virtually untracked in places, like skier's left on Lower Prima. Good stuff all around.


Here's hoping the next couple of days shape up in similar fashion snow-wise, but regardless the base has been laid. Check out these stats:
December month-to-date snowfall at Vail and Beaver Creek is well ahead of average, and both resorts surpassed the 100-inch cumulative snowfall mark for this season. Season-to-date Vail and Beaver Creek were reporting 101 inches of snow at their mid-mountain reporting sites Wednesday. Vail is 18 inches ahead of its 83-inch cumulative average.


So far this month storms have dropped 56 inches of snow at Vail and 53 inches at Beaver Creek. Vail's December snowfall monthly average is 59 inches and Beaver Creek's average is 55 inches for the month. And the good times look to keep rolling, with more snow in the long-range forecast.


Not bad, considering two weeks ago we were staring at dirt on the slopes.


Comment on "Latest storm delayed but freshies keep falling in general" using the form below