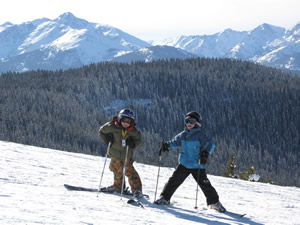 Nick Williams, right, and his buddy, Tucker, mug for the camera in Earl's Bowl in Blue Sky Basin Tuesday, with Mount of the Holy Cross as an imposing backdrop.
By David O. Williams
Blog Tools
Comments
PermaLink
Vail Mountain holding up well a week after last significant storm
By David O. Williams
December 19, 2007 — Day 14 of my season was an interesting one on Tuesday, spent in hot pursuit of a pair of 7-year-old twin-tip terrors all over Vail Mountain.


My oldest son Nick is out of school and wanted a "play date" on the hill with one of his buddies. I was merely along for the ride.


We jumped off Chair 6 and into the Chair 11 maze with high expectations of quickly reaching the top of the mountain and then verging off in any direction we chose (or, actually, that they chose).


But Chair 11 was bogging down for some reason, so I quickly pulled the plug and ordered an all-out charge to the new high-speed Chair 10 before that maze filled too quickly with refugees from Chair 11.


So my first run of the day, with a couple of second-graders, was the bump run Log Chute, which is the "L" in the notorious mogul combo of PPL (Prima, Pronto, Log Chute). A fair amount of carnage later and we were comfortably on our way up 10.

A quick high-speed ripper down Whiskey Jack and we were on the equally new Chair 14, which takes riders quickly up to Two Elk Lodge and has eliminated the need for surface lifts to get people to the famed mountain-top restaurant (rebuilt after an eco-terror arson attack in '98).


We pounded down some pizza and then dove into China Bowl's Poppyfields run for a high-speed rollercoaster ride down to the Skyline Express lift and up into Blue Sky Basin. From there it was a no-brainer, for the boy's at least, to attack the amazingly fresh snow still lingering in the In the Wuides run down into Earl's Bowl.


Because the Earl's Express chairlift wasn't running and it's a long run-out at the bottom, nobody was skiing this moderately-pitched piste. The last time I'd hit it was Friday, and even then I was amazed it was still holding snow from the previous significant snowfall – an 8-inch dumping a week ago Tuesday night.


So to still find freshies there a week after the last measurable snow was pretty wild, and cold temps in that span of time had kept things nice and light. From there we headed up Tea Cup Express and did Genghis Khan back into China Bowl, which was a bit more bumped up and crusty than my previous foray on Friday.


One more Tea Cup ride and another Whiskey Jack to Chair 11 and we capped off the day by jumping into North Rim (still some soft stashes in the shadows of the trees), under Chair 11, down Log Chute and then Brisk Walk to Golden Peak.


So despite a lack of snow for a week and a base dipping below 30 inches (27 at this writing), I can honestly report the mountain is in good shape for mid-December. There were patches of dirt and grass in some of the high-traffic areas and I don't want to think about the hill if we don't get any snow before Christmas, but luckily it looks like we won't have to deal with that prospect.


Overnight Tuesday into Wednesday a couple of inches of new snow were in the forecast and then snow showers are expected to continue intermittently Thursday, with a little better chance of accumulation Thursday into Friday.


That's good news for the little rippers I rode with Tuesday, and even better news for all the holiday hordes on their way out west with visions of powder days dancing in their heads.


Comment on "Vail Mountain holding up well a week after last significant storm" using the form below