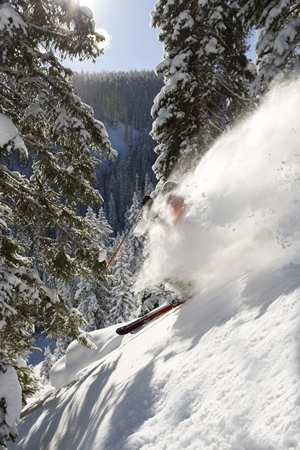 Realvail.com blogger and former extreme skiing champ Chris Anthony delves into the deep stuff in Beaver Creek's recently opened Stone Creek Chutes.
By Jack Affleck/Vail Resorts
Blog Tools
Comments
PermaLink
Merry Christmas and a powdery new year from realvail.com
Snow keeps pounding Vail Valley, with more in the forecast
By David O. Williams
December 25, 2007 — Merry Christmas and happy holidays from all of us here at realvail.com, where the snow keeps falling and the bloggers keep blogging, even on Christmas Day.


Santa stuffed our stockings with more than a foot of fresh snow the past two days, and by all accounts, the skiing is spectacular at Vail and Beaver Creek.


I personally havenít been up on the local hills since Saturday morning (Day 15), when I dropped my son at Vail Devo (ski school development team) and headed up for a couple of front-side trees runs.


At that point it hadnít snowed in a couple of days but the trees were spectacularly untrammeled and I found a secret stash in the trees between Rogerís Run that will live in my mind for a long time. It was probably only 25 or 30 turns but Iím the kind of skier who will go to great lengths for such an experience.


Alone in the deep woods and a perfect crease in the trees, loaded with uncut snow and rolling out ahead of you 200 or 300 feet and not another soul in sight. Now thatís bliss. I wonít tell you exactly how to find it because powder stashes are like fishing holes, but suffice to say, itís out there and fully reloaded.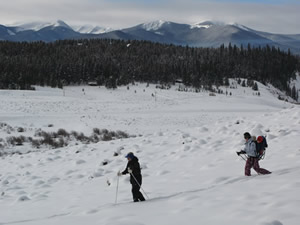 Marty Williams, left, breaks trails for Kristin Kenney Williams and son Rennick near Tabernash Colorado. Good skiing abounds all around Colorado, in many different forms.

That afternoon we headed over the river and through the woods (or over Vail Pass and up Highway 9, as the case may be) to grandmotherís house just outside of Tabernash, near Devilís Thumb cross-country ski ranch in the Winter Park area.


While I only have second-hand photographic evidence of how good the skiing was at Vail and Beaver Creek over the weekend (see the accompanying Jack Affleck photo of RealVail blogger Chris Anthony just prior to the Stone Creek Chutes opening at Beaver Creek Sunday), I have firsthand photographic evidence of just how good the Nordic skiing and tobogganing was near my folkís house (see secondary photo of my wife Kristin with youngest son Rennick on her back and following in the tracks of my mom, Marty Williams).


Thing about the photo of Anthony is that another foot of snow has fallen since that shot was taken, so conditions must be truly amazing at this point. I hope to get out briefly Wednesday morning to find out for myself, because weíre back in the Valley and psyched for a crazy Christmas week.


A full 95 percent of Beaver Creek is now open for business, with 1,700 acres served by 17 lifts. Beaver Creekís snowfall for the month of December (as of Saturday) was 123 percent of average, with 68 inches of snow falling since Dec. 1.


If you canít get excited about that, youíre doomed to do corduroy cruisers for eternity (although, as they used to say on Seinfeld; ďNot that thereís anything wrong with that.Ē)


Comment on "Merry Christmas and a powdery new year from realvail.com" using the form below