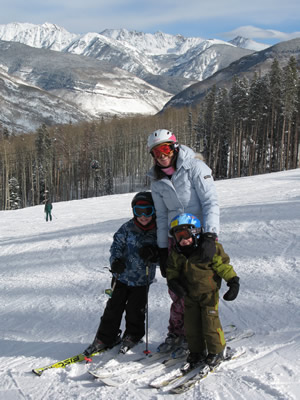 The bloggers wife, Kristin, flanked by sons, Nick, left, and Max, at Vail Mountain Wednesday with the Gore Range in the background.
By David O. Williams
Blog Tools
Comments
PermaLink
Cold, snow expected to prevail through New Year's Day
Ski conditions some of the best ever for holiday season
By David O. Williams
December 27, 2007 — Why is it that when weather forecasters call for a big pasting of snow we wind up with flurries, and when they're only predicting a few inches we get a foot?


Overnight Wednesday we were supposed to get 2 to 4 inches in the Vail Valley, with another 3 to 5 during the day Thursday. I woke up Thursday morning to a whopping inch, brutally cold 9-degree temps and only light snow falling as of 8 a.m. Could be another delayed storm, with a lot more on the way, but only time will tell – not the forecasters.


The weekend before Christmas was the opposite situation. Forecasters were calling for a couple inches and we wound up with more than a foot over two days Saturday and Sunday. Go figure.


Weather forecasting will likely be one of those sciences that future civilizations will look back on as a sign of just how primitive we were: "And, amazingly, they were unable to make even the most basic predictions about upcoming weather events. Many of them scoffed at the notion of global warming. And they believed in cloud seeding. Remarkable, really."

I can tell you this, though: the skiing at Vail and Beaver Creek is truly exceptional for this time of year. I headed up on a family outing at Vail Wednesday (Day 16 for me) and was very pleasantly surprised at just how well the hills are holding up to the pounding by what looked to be typically large holiday crowds. Of course, more than a foot of snow over the weekend helped that cause.


Funny thing is that most holiday visitors aren't really hoping for cold and powdery days, and usually Mother Nature obliges. Seems like the snow usually lets up for Christmas week then resumes on New Year's Day. The exact opposite appears to be the case this season.


Snow or snow showers are in the forecast (I know, I know, inexact science) for the next five days, with the first sunny one predicted for, you guessed it, Jan. 1. Looks like holiday tourists will have to stick around for a few more days if they want to ski all this new snow under sunny skies.


Whatever you do, bundle up the next few days if you're hitting the slopes. Wednesday wasn't too bad, although neck gators were in full force with my boys on our outing – even though we managed to stay warm by loitering in the woods: Sherwood Forest, Porcupine Alley, etc. But today (Thursday) the high is only going to be 13 Fahrenheit. Friday will only top out at 15. Yikes.


Still, the skiing is spectacular, and well worth braving the cold if your pass isn't restricted. For those of us blacked out for the next five days, it's a test in creativity to find things to do with the kids, all of whom are out of school and wound up from the holidays. Good times.


Comment on "Cold, snow expected to prevail through New Year's Day" using the form below