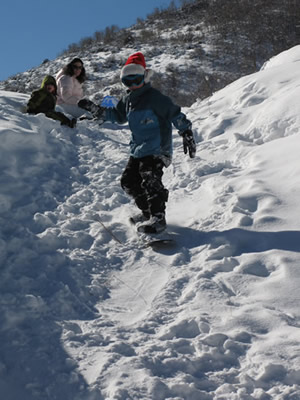 Think there's not much snow in Vail, given our "mere" 30-something-inch base? Then you've been reading the wrong websites. This is the blogger's son, Nick, snowboarding toward a huge kicker in the neighbor's driveway in West Vail. Ho, ho, hospital air.
By David O. Williams
Blog Tools
Comments
PermaLink
Vail feeling festive under a foot of fresh snow
But high winds, blowing snow shut down lifts, close I-70
By David O. Williams
December 31, 2007 — Finally, some "real" snow here at RealVail's Upper West Vail HQ.


After being teased for days by systems (or was it just one long, lingering system) that brought lots of cold but very little snow – a trace to an inch every day for the last four or five – it finally really dumped Sunday morning, though the night and into Monday morning.


Vail was reporting 10 new as of 5 a.m., Monday, and the Beav' chimed in with 8 new, but a few more had definitely fallen as of this writing, and the temps had crept up to manageable numbers after a brutal deepfreeze the last few days. It was so cold I almost didn't mind my pass being restricted for the holidays … almost.


So while I haven't been able to ski and give you actual firsthand accounts of the conditions, my spies on the hill tell me the cold temps and little bit of snow each night have kept the mountain as buff as it's ever been this time of the year.


And when the restrictions lift Tuesday, Jan. 1, we'll be talking about a powder day for sure, which often seems to be the case. Forecasts are calling for snow showers throughout the day Monday, with a high of only 13F, and then bluebird sunny skies New Year's Day and a high of 19. Happy New Year indeed.


But be sure to check out the Colorado Department of Transportation website (see our Lynx section) before heading up by car. Interstate 70 was closed in both directions due to snow and blowing snow overnight Sunday into Monday, stranding motorists on both sides of Vail Pass.


And high winds were wreaking havoc on Vail Mountain, if you were lucky enough to already be here, intermittently shutting down lifts in the Back Bowls and Blue Sky Basin Sunday and Monday. So check with ski patrol or mountain information folks before heading up on the hill.
Speaking of cold temps, though, it doesn't get any more "real Vail" than what happened at my West Vail homestead overnight Thursday. With temps dipping to 15 below zero (Fahrenheit), I was a little dismayed to discover my boiler that heats the water for my in-floor radiant heat had gone kaput.


This discovery unfortunately did not occur until around 10 p.m., long after most heating and plumbing repair companies have pulled the plug for the evening and gone into double-time mode. Long story short, we piled every blanket and sleeping bag in the house on the living room floor and fed the fireplace all night.


The next morning was a crazed and frosty frenzy of keeping the baby and my other two boys warm while frantically dialing around to find someone to look at our boiler. I got a lot of "we can't come till next week" responses, to which I replied that we would all be popsicles by then.


Finally, Dan at Whitewater Plumbing and Heating said he was right down the hill and would be by in 30 minutes. He came, he fixed, and therefore (no matter the size of his bill – OK, up to a point) he has forever achieved hero status in our household.


This brings me around to a new service we hope to provide in the new year for our loyal readers, many of whom own second or third homes in the valley and need to know who they can trust for fast, friendly and reasonably priced home repairs, landscaping, remodeling, carpentry, electrical work, snowplowing, hot tub servicing, you name it.


Believe me when I tell you that as the least mechanically inclined male on the surface of the planet I have compiled quite a database of service companies and contractors who can be trusted. My plan is to play Santa and put together a naughty or nice list for all of our readers.


Send me an email under the contact us form or post a comment on this blog to tell me what you think of that idea and what information you would find useful. I think even the service companies would appreciate this feature. Of course, that probably depends more on which list they land on – naughty or nice.


Consider Dan at Whitewater the first listing on the "nice" side. And have a happy and safe new year everyone.


Comment on "Vail feeling festive under a foot of fresh snow" using the form below