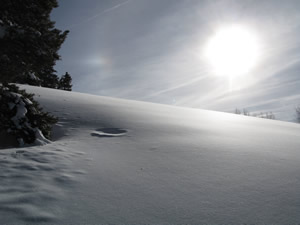 All I needed here was for my brother-in-law to bust through this powder field in the backcountry off of Game Creek Bowl, but luckily he was smart enought to stay on the trail and take the lift back up. I wound up skiing to Minturn, the old railroad town off Vail's back side.
By David O. Williams
Blog Tools
Comments
PermaLink
An accidental backcountry tourist
By David O. Williams
January 3, 2008 — Day 18 of my í07-08 ski season on Wednesday, Jan. 2, was a one-and-done wonder that serves as a good cautionary tale for anyone who likes to poke around in the trees for powder and thinks they know every square inch of their home mountain.


First, some background. The weather has been brutally cold of late but other than a foot of fresh over the weekend there hasnít been a ton of snow falling. And that foot was scoured so hard by the wind Saturday and Sunday that a lot of it got blown deep into the trees.


For instance, on New Yearís Day when ski pass restrictions lifted, my brother-in-law, wife and I went to Beaver Creek, where we found patches of very soft snow in places in Royal Elk Glade, Larkspur Bowlís Yarrow run and even the trees skierís left on Harrier. But parts of the mountain had been wind blasted right down to the hardpack. Donít get me wrong, still a great day, but it required selective skiing, especially with temps hovering around zero all day.


Then on Wednesday my brother-in-law and I got dropped at the Cascade lift on the western edge of Vail Mountain, jumped on the Pride Express lift, and found ourselves at the top of the Eagle Bahn Gondola.

Wanting to get into the Back Bowls and hopefully the wind-loaded trees of Blue Sky Basin as quickly as possible, we headed down the Game Trail catwalk into Game Creek Bowl. There were lots of tracks ducking the rope and heading down into the drainage, but I knew those folks likely wound up skiing to Minturn, so I kept along the road until the closure rope ended.


At that point I dove in with abandon, remembering you can poach some great powder in between the hairpin turns of Game Trail before finally dumping out at the bottom of Chair 7. My brother-in-law Erik, who was snowboarding and not wanting to wallow in snowy tree wells on his first run of the day, elected to stay on the road.


Thing is, I started getting into a gladed groove, making turn after untouched turn until I realized I needed to start traversing out hard skierís left. But by then it was too late. I dropped down into the stream bed and could see that the opening to the base of Chair 7 was a couple of hundred yards of thigh-deep snow uphill.


I never crossed any ropes, but just like that my morning had turned into an unplanned backcountry experience. Knowing the area fairly well I simply followed a few ski tracks out along the bank of Game Creek, checking my cell periodically for coverage.


About the time I got to where the trail I was on intersects with the Minturn Mile trail (a classic backcountry poach off the top of Game Creek Bowl) I was able to reach Erik, who was waiting patiently at the bottom of Chair 7, and tell him to keep riding. My ďdayĒ was done.


I enjoyed the silence and solitude of the rest of the run and surprised my wife at her office in Minturn, where I was able to borrow her car and drive home to Vail. I think someone was trying to tell me not to ski that day and to get back to work, but it struck me as an interesting accidental OB experience, proving that even when you think you know right where youíre going, you can be off by just a couple of hundred yards.


1 Comment on "An accidental backcountry tourist"