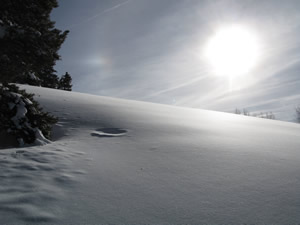 Blog Tools
Comments
PermaLink
Storm dumps a half foot, with more on the way
Vail Mountain in killer shape
By David O. Williams
January 6, 2008 — After hitting Vail fairly hard all day Saturday (Day 19), I can personally attest to the fact that Vail Mountain is in stellar mid-season form. While we maybe didnít get quite as much out of this storm as expected (Vail was reporting 6 new as of 5 a.m. Sunday and the Beaví 9), it was still an amazing day.


One of those days where the snow just keeps falling, the visibility is next to nothing (same as the lift lines) and your tracks fill in from run to run. I personally think Vail is underreporting as of Sunday morning because there were at least 6 new inches on my West Vail deck, and I know the mountain always gets more.


Also, itís still snowing as I write this at 10:30 a.m. Sunday, so Iím not giving up on this system, which was supposed to produce 1 to 2 feet. One good thing is this storm, unlike the one last weekend, did not pack nearly as much wind, and the temps were much more reasonable (mid to upper 20s).


Iím heading up now for another look at the Back Bowls, so check back later this afternoon for a full report.


Comment on "Storm dumps a half foot, with more on the way" using the form below