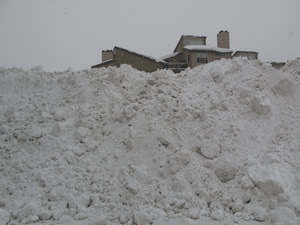 Want to know what kind of season it's been so far? Check out this snowplow mound on the upper deck of the Lionshead Parking Structure in Vail. More snow was falling Sunday night, meaning Monday will likely be the best day of the season so far.
Blog Tools
Comments
PermaLink
Snow keeps coming in wet wave after wave
Monday promises best powder snow of the season so far
By David O. Williams
January 6, 2008 — The Energizer Bunny of snowstorms just keeps going and going in the Vail Valley.


Starting Saturday morning around 9 a.m., a warm, wet Pacific storm has been sending band after band of moisture our way. Sixteen inches has fallen since then, with about 6 of those coming overnight Sunday into Monday morning.


Skies were clearing as of 8 a.m. Monday, but Vail Pass was undergoing avalanche control, and you should expect delays if you're trying to make it up.


I got Day 20 in Sunday at Vail and found plenty of freshies (about 10 new at that point) all over the mountain - again, the kind of day where your tracks fill in behind you after each run - but then the skies cleared and the snow tapered off right after the lifts shut down and I thought that was it.


But as of about 9:30 p.m., the clouds rolled back in and the skies opened back up. I was hoping an overnight dumping would catch us up with Silverton (50 inches in the past 24 hours) but not quite. Still, the ski area there was shut down Sunday, so maybe there is such a thing as too much snow.

I've heard some complaints about how heavy the snow is but I found it light enough and manageable both Saturday and Sunday and the warm air and relative lack of wind was a nice changeup from the previous weekend's brutal temps and howling winds.


Vail Pass did shut down for a couple of hours on Saturday, but at least it wasn't the 24-hour closure of last weekend.


Anyway, if you can get up here or if you're already here, Monday should be the best ski day of the season so far. The holiday crowds who've held over for the rest of the New Year's week will likely be heading out, and the mountain should be steep, deep and largely deserted.
Hope to see you on the hill.


Comment on "Snow keeps coming in wet wave after wave" using the form below