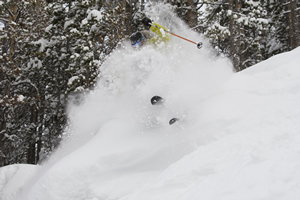 As you will see later in this blog, there's a reason professional photographers are professionals, and amateurs like the blogger should stick to the keyboard. This pro photo by Vail Valley veteran shutterbug Jack Affleck demonstrates the amazing conditions at Beaver Creek, which has surpassed Vail of late with 21 inches in the past 48 hours.
By Jack Afflect/Vail Resorts
Blog Tools
Comments
PermaLink
Epic conditions on Vail Mountain
Day 21 comes up aces after weekend of steady snow
By David O. Williams
January 8, 2008 — I don't bandy about the word "epic" too often. It's ski-town hyperbole that's become so commonplace it's lost its true meaning.


But Monday on Vail Mountain – Day 21 of my '07-08 season – was indeed epic. After consistent snowfall all day Saturday and Sunday and another 6 to 8 inches overnight Sunday, Monday was the day. The best conditions so far in this young ski season.


And the good news is the snow is still falling. Skies were clear in the a.m. Monday, lending impeccable visibility to Back Bowls loaded with 16 inches of new snow in the previous 48 hours.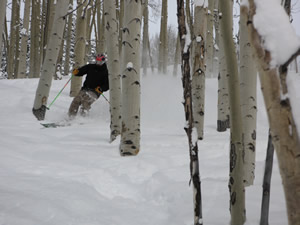 An unidentified skier skis an unidentified line on an unidentified run on Monday on a mountain that shall be identified as Vail.

But by about 1 p.m. the clouds rolled back in and light snow started falling until around 8 p.m. Monday, when the heavens opened up once again and deposited another 4 inches or so as of this writing at 11 p.m. A winter storm watch was in effect for another hour or so.


So Tuesday could be equally as epic as Monday, and forecasters are calling for light snow off and on the rest of the week. Get up here or out here if you can, because you never know when Mother Nature is going to close the spigot.


I started my epic day on Monday by busting up Chair 3 and charging out the traverse to Seldom in Sun Down Bowl. I usually hit the tree line on Seldom but opted for the cliff bands between Seldom and Widge's and did not regret the choice.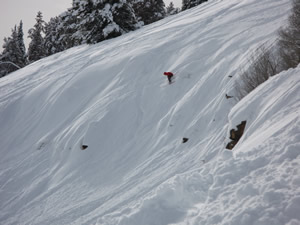 A lone skier drops off the cliff band between Seldom and Widge's in Sun Down Bowl Monday.

It was knee to thigh deep, cold and fluffy.


The next run I was hooking up with a friend at Mid-Vail, so I rode Chair 5 and dashed down Zot, which was virtually untouched right down the middle of the run (I actually recorded my first legit face shot of the season). Once I joined my buddy we jumped on Chair 4 and hit Head Wall into Sun Up Bowl, then Chair 17 to a tree run that shall remain unnamed for unstated reasons.


After that it was two or three Genghis Khans a couple of Rasputins and a Blue Ox to the bottom. Seriously good stuff, folks, and I hope you're able get up and sample a bit of it. The holiday crowds have dissipated and the snow just keeps sifting down. Come get it.


1 Comment on "Epic conditions on Vail Mountain"