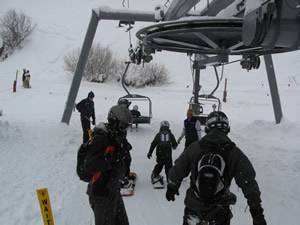 This was the extent of the lift line at Chair 5 Wednesday morning despite nearly 3 feet of snow from a seemingly endless series of storms.
By David O. Williams
Blog Tools
Comments
PermaLink
The anatomy of the hour-and-a-half ski day
Or why three runs in knee-deep pow is worth almost any effort
By David O. Williams
January 9, 2008 — Day 22 of my '07-08 ski season sort of epitomizes why I live in a ski town.


With a foot and a half of new snow in the past 48 hours, on top of another foot and a half over the weekend, I knew Vail Mountain on Wednesday was something that needed to be pursued the way Britney Spears gobbles up "unidentified substances."


No mistaking what substance was on Vail Mountain Wednesday morning. It was an absolute whiteout of cold, fluffy flakes – and way more addictive than anything fading pop divas are into.


Witness the lengths I'll go to to make turns in the midst of an epic January storm cycle:

9:15 a.m. – drop my son Max at daycare.


9:20 a.m. – pull into the Vail Parking Structure (the clock starts ticking on my hour and a half of free parking).


9:25 a.m. – sprint through Vail Village in ski boots, hurdling shorter tourists and weaving between the bigger ones.


9:30 a.m. – no line at the Vista Bahn – jump on solo.


9:36 a.m. – ditto on Chair 3.


9:40 a.m. – plunge into Sun Down Bowl, breathing in facefuls of fluff with each bottomless, bouncing turn down Ricky's Ridge.


9:45 a.m. – no line at Chair 5 (incredible) – jump on with one other person, who makes the comment on the ride up that the conditions at Vail right now are "like in-bounds, lift-served heli-skiing." Can't really argue that point.


9:55 a.m. – arrive at the top of 5, take a hard left, screaming down Wow, busting through the trees and copping copious powder the whole way back to the bottom of 5.


10 a.m. – a few more people in the Chair 5 maze, but still only a three or four minute wait.


10:15 a.m. – arrive at the top of 5, power pole under Chair 4 to grab the trees skier's left on Zot (absolutely untouched). Then Spruce Face over to Chair 2 and down Giant Steps to 38 (also untouched) to the Village.


10:30 a.m. – sprint back through Vail Village, slipping in my ski boots in front of the parking structure (skis and poles go flying – knee gets slightly tweaked), and jump back in the car at about 10:38 (10 minutes to spare).


So as you can see, calling this a ski "day" is a bit of a stretch. But if I click into my bindings and ride a chairlift, I count it. And besides, I took a much-needed day off from alpine on Tuesday and went for a 45-minute cross-country ski behind my house. Twice the cardio of four hours of alpine, but I don't count Nordic days.


Anyway, we're expecting another 5 to 7 inches overnight, and snow is in the forecast through Sunday, so see what lengths you're willing to go to get in some of the best turns of your life.



1 Comment on "The anatomy of the hour-and-a-half ski day"