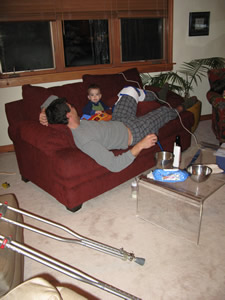 The blogger on his West Vail couch with his sympathetic one-year-old son, Rennick, aiding in his recovery.
By Kristin Kenney Williams
Blog Tools
Comments
PermaLink
Yes, man can ski without an ACL ... but we don't recommend it
RealVail editor now corresponding from his West Vail couch
By David O. Williams
January 13, 2008 — OK, in my last entry (which I admit has been quite a few days ago) I casually mentioned "tweaking" my knee falling in Slifer Plaza, right in front of the Vail Parking Structure, while walking back from three epic runs on Vail Mountain Wednesday, Jan. 9.


Here's a more colorful description of the "incident" that I sent to a few select friends the day after it occurred. It has been edited for general family audiences: "I busted up my knee slipping on dry cobblestones in Slifer Plaza in front of scores of tourists. One old man handed me my skis, which had flown like 20 feet away, and said, 'I hate when that happens.' Then a no doubt document-challenged young worker scooping up trash with one of those dust bin thingies handed me my poles and asked me if I was OK. Finally, some tool from Texas (although being from Texas did not make him a tool, I just uncharitably like the alliteration) handed me my goggles, which had flown completely off my helmet, which, thank god I had it on because my head slammed into the cobblestones.


"This was not RV's greatest moment, but now I'm lying on the couch, my swollen knee propped up on a pillow, writing about a Sudanese refugee track star from Denver who got free surgery at the Steadman-Hawkins Clinic, and I'm thinking, do I have to live in a refugee camp for 11 years, drink from mud puddles, eat raw antelope and see other refugees eaten by crocodiles to get free surgery?"


The answer to that is, yes, I do, but they do take my insurance, and so I went to see Dr. Steadman himself on Friday, and let me tell you there is something comforting about being treated by the man who in many ways pioneered modern sports orthopedic medicine and has essentially invented such groundbreaking procedures as microfracture surgery and has salvaged the careers of football stars such as Joe Montana and skiers such as Bode Miller.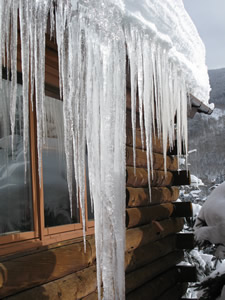 The scenic photos will continue. Just don't look for my really poor ski shots. This is an ice flow on my roof that I knocked down soon after this photo (don't tell my doc).

Anyway, the soft-spoken doc who once played for Paul "Bear" Bryant at Alabama, saw me on the Friday and then again Saturday, and here's the latest: I have a chronic ACL situation in my left knee, which means basically that I don't have one. Apparently it snapped many years ago (and the only time I can think of was my only other visit to the SH Clinic in 1992 after I "tweaked" my knee when I was the Vail Daily sports editor trying to keep up with Scott Kauf, Dave Hilb and other pro mogul tour skiers on Vail's Highline run during the bump tour heyday.


At that time, even as the esteemed sport editor of the Vail Daily, I had no health insurance, so I had the knee drained and did PT but could not have an MRI so I never found out my ACL was gone. Then last Wednesday when I slipped and fell on dry cobblestones in Slifer Plaza walking back from skiing (I plan to sue the town for its snowmelt system since I think if there had been snow and ice on the ground I would not have fallen – kidding, of course), I re-aggravated the injury after 16 years (I've apparently been skiing without an ACL longer than some of you have been alive).


Anyway, Steadman initially thought non-cancerous cysts formed after the original injury years ago and that one of them burst when I fell the other day, but Saturday he revised that and thinks it may be one or both ends of the ACL flapping around in there and causing problems. So he wants me to do PT for a few weeks, get the mobility up and the swelling down and then he'll scope it and fix either the cysts or the ACL flap.


Then we'll decide whether to do surgery to repair my ACL. Even though I've skied for years without one, he thinks that at my advanced age (42, though clearly I don't act my age) I might want an ACL going forward. If that happens, I'm likely done for the season, although maybe I could postpone until the summer on that part of all this.


This injury will not affect RealVail!!! In fact, I'll likely be far more productive as I won't "waste" time skiing and will be able to write, write, write about the sport I love (though no longer first person, but I have many spies – and fellow RV staffer Tom Boyd – crawling all over the local mountains).


Anyway, the worst part is chasing my one-year-old on crutches and missing my seven-year-old's first Youth Ski League race of the season in Breck Sunday (my wife Kristin had to take him). I'm back in the blogging saddle as of today (Sunday), though, and will keep you all posted on my knee, the amazing condition of the local mountains (absolutely no reason to go out of bounds until the snowpack stabilizes, but that's a future blog or Real Rhetoric column).


Quickly, our first E-newsletter is going out this week, but some stories I'm particularly proud of and would love for you to check out on the site include: my Real Sport story on Dey Tuach of Sudan and his surgery at Steadman-Hawkins; Vail's impact on the Asian ski boom in Real Biz; the changing dynamic of the second homeowner market in Real Estate; and the fallout from the departure of Bill Jensen in Real Rhetoric. As I said, I'll likely be a lot more productive trapped on my couch the rest of the season.


And speaking of the season, after no snow in November, the spigot of the Snow Gods opened up during the World Cup ski races at Beaver Creek in early December and seemingly has not shut off since. It has snowed more than 4 feet in the last eight days, with snow falling every one of those days, and we have had 201 inches so far this season (remember, our season average is usually 330 inches, so we're only 130 away with three of our snowiest months to go).


I logged 22 ski days so far this season, a handful of them in October and November when there was little snow, but many more of them in the incredible conditions since early December. So book a trip now and take part in what could be a record season for Vail. Enjoy the bounty, because you never know when the Snow Gods will turn up the sun lap. And besides, you now have one less powder pig tracking up your favorite line.


But my goal is to log at least Day 23 before the season is over, so don't count me out yet!


4 Comments on "Yes, man can ski without an ACL ... but we don't recommend it"