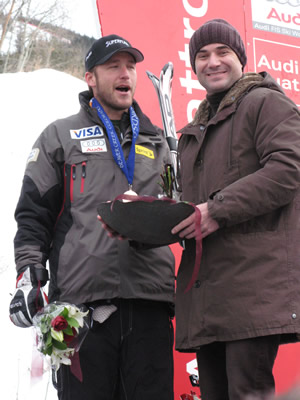 Bode Miller, shown here in Beaver Creek in December with tennis great Andre Agassi, is now tied with Phil Mahre for the most wins all-time among American ski racers, but Phil says he could care less.
Blog Tools
Comments
PermaLink
Stuck on the celeb desk
Nursing my knee and pining for Britney
By David O. Williams
January 17, 2008 — All right, with my injured knee (see previous blog), I've now been relegated to the RealVail celebrity desk. Yes, Boyd, I'm sure the skiing is good, but now I get to write about Britney … and Phil.


By Phil I mean Mahre, who is tied for the most wins among American ski racers with Bode Miller, both stuck on 27 World Cup victories. But Bode is on a bit of a roll, having won the Lauberhorn downhill for the second year in a row and a downhill in Bormio, Italy, Dec. 29.


Asked about Bode's recent success, here's an email to me from Phil – the three-time overall World Cup winner and Olympic gold medalist: "Well, it's about time someone came along and bettered what I'd done. With (Bode's) talent this should have been done long ago. Anyway, doesn't matter much to me, I was never in the sport for records - seems a bit egotistical. Just hope he can become a great spokesperson for the sport."

OK, more on that in future Real Sports stories. Here's my other celeb tidbit: Britney Spears almost became a Vailite, but not really.


Seems a squeeze she met last year in rehab, John Sundahl, an L.A.-based real estate developer, plunked down deposits on places in Vail and Cherry Creek North in Denver, but both deals are reportedly on shaky ground due to the ensuing publicity. Sundahl told the Rocky Mountain News he is no longer with the troubled former teen diva, but hopes his deals still go through.


Whatever, John, you're guaranteed a spot at the American Ski Classic next year: the ex-lover of Britney that she met in rehab. Welcome to Vail!

Comment on "Stuck on the celeb desk" using the form below