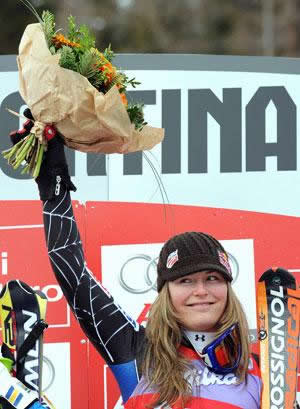 Ski Club Vail product Lindsey Vonn celebrates the 11th win of her career Saturday in Cortina, Italy.
Courtesy of the U.S. Ski Team
Blog Tools
Comments
PermaLink
Vonn, Miller making ski-racing history
But does anyone outside of ski towns care?
By David O. Williams
January 20, 2008 — So the torrid pace of snowfall has slowed a bit of late, with but an inch or two here and there the last week or so. Not that I care too much, given my knee injury and inability to ski (although Iím still pulling for all the able-bodied people who can), but at least the decreased snowfall has given everyone in the Vail Valley the ability to catch up on work and heal their battered bodies.


During the pounding period of precipitation earlier this month, work was piling up in in-boxes even faster than the snowpack totals, and people were starting to sport all sorts of nicks, bumps, bruises, twists, sprains and overall forms of fatigue.


And even though there are snow showers in the forecast every day for the next week, we can all now at least take a deep breath and think about things other than blower powder and full-on face shots. I, for instance - in my languishing exile on the couch - have been thinking a lot about the historic nature whatís going on on the World Cup circuit.


Iím sure Iím in the minority there, since the vast majority of America is not particularly enamored of the White Circus, as itís been dubbed, but when you live in a ski town and canít ski, you think about skiing Ė especially when itís as historic as what Vailís Lindsey Kildow and New Hampshireís Bode Miller are doing right now.

Ski Club Vailís Vonn won a downhill in Cortina, Italy, Saturday, her fourth win this season and the 11th of her career. Vonn, formerly Kildow, at the ripe old age of 23 is now tied for 28th on the all-time World Cup victory list and trails only Tamara McKinney for the most victories ever by an American woman. McKinney is tied for 18th all-time with 18 career wins and an overall title.


Miller, meanwhile, won back-to-back downhills earlier this month to tie Phil Mahre for eighth on the all-time victory list and for the most career World Cup wins by an American man (27).


Then on Sunday he won a combined event in Kitzbuehel, Austria, to top Mahre's mark by one. He now trails retired Austrian Stephan Eberharter (29 victories) by just one win and active rival Benjamin Raich of Austria (30 victories) by two.


ďI remember when I was young it was one of my goals. I wanted to be the best American skier ever,Ē Miller told the press last week. ďI think that's what I am. It's nice to have the numbers to back that up.Ē


If Miller catches Eberharter for seventh or even Raich for sixth all-time this season, itís pretty rarified air after that. Swiss great Pirmin Zurbriggen is fifth with 40 wins and the still hard-charging Hermann Maier - second Friday in a super-G on Kitzbuehelís famed Hahnenkamm Ė is second all-time with 53 wins.


Raich has one slalom win this season, but the Herminator is still winless so far. None of them, of course, will ever catch Swedish legend Ingemar Stenmarkís hallowed career record of 86 wins. Mahre, for the record, thinks thatís the mark to beat and isnít too impressed with Millerís feat.


But Miller nearly surpassed Mahre on Saturday by finishing tied for second in the Hahnenkamm, nearly winning the worldís most famous downhill. The former slalom and giant slalom specialist has made himself into the kind of speed-event skier Mahre never pretended to be.


Still, Millerís all-around greatness and reckless abandon may be overshadowed historically by his lack of Ė and disdain for Ė an Olympic gold medal, something Mahre has in his sock drawer, along with three overall globes to Millerís one.


And Vonn, also a two-time Olympian like Miller, can win all the World Cup races she wants, but wonít gain the fame of her idol and mentor, Picabo Street, if she doesnít claim Olympic gold in the coming years. Itís apparently the only thing American ski-racing fans understand.


Comment on "Vonn, Miller making ski-racing history" using the form below