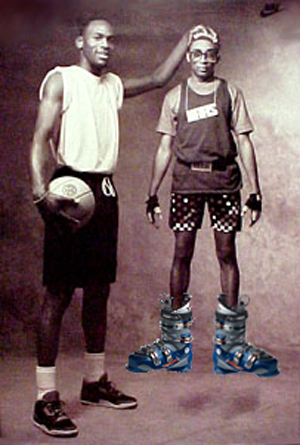 Mars Blackmon, shown here being palmed by Michael Jordan, knew the importance of proper footwear.
Realvail.com photo illustration
Blog Tools
Comments
PermaLink
'Money, it's gotta be the boots'
Realvail.com announces winner of Surefoot ski boot giveaway
By David O. Williams
January 31, 2008 — If Spike Lee's Mars Blackmon had grown up in Beaver Creek versus Brooklyn, he undoubtedly would have told Bode Miller instead of Michael Jordan, "Money, it's gotta be the boots."


"Do you know? Do you know? Do you know?" … he would've been right. I've always said, get the boots right and I can ski on a pair of two-by-fours … rough-cut and un-sanded.


And one place that's been getting boots right in Vail and Beaver Creek since back when Backmon was shilling for Nike is Surefoot, founded by local boy Russ Shay and his brother Bob (click on http://www.realvail.com/articles.php?artid=133 for more about the Shays or on www.surefoot.com for more about the innovative company itself).


Turns out the winner of our holiday boot giveaway, a random online drawing selected from people who registered for our Real-E newsletter – the first edition of which went out today (Wednesday, Jan. 30) – lives in Silver Spring, Md., but owns a place in Vail, where he recently purchased a new pair of Surefoot ski boots for himself.

Now, when Gerry Hartung, 51, returns with his wife, Petey, in March, he can pick her up a pair, courtesy of Surefoot and the realvail.com launch party giveaway, where we also handed out a bunch of other great product from Performance Sports in Lionshead and Roxy in Vail Village.


This is the launch party that keeps on giving, and we're proud to say we had more than 100 people sign up for the boots (and we hope, to some degree, our incredibly enticing newsletter) and that our unique users (that's right, you're all one of a kind) continue to spike upwards.


In December we had 3,000 unique visits, and that number climbed to 3,500 in January – not bad for a grassroots start-up that went live in September of '07. Hartung says his Sonnenalp Real Estate broker (www.sonnenalprealestate.com) turned him on to the site.


"What I like about it is I spend a lot of time in the office, and I can go to your site, sit and catch up quickly," said Hartung, who owns a publishing company and is CEO of a medical education website called www.med-iq.com. "It's quick and easy, very user-friendly, and I can take 15 minutes and catch up on the latest in Vail."


Hartung said he was attracted to the site by a RealVail Real Estate article on the changing nature of second home ownership, a trend that sees more baby boomers spending a month of two of the year living, working and recreating out of their resort property. The Hartungs started out with a fractional unit in the Sonnenalp's Austria Haus and have since upgraded.


"We have a condo in (Vail Cascade) and recently bought a lot in Cordillera with the idea we will move there in the future," Hartung said. "My wife and I love your online paper. It really helps us stay in touch with what's happening in Vail when we can't be there."


And so will our Real-E newsletter, a sporadic and not-at-all obtrusive email blast that hits the highlights (snow conditions, business trends, big events) two or three times a month. Click here to sign up, and remember, "It's gotta be the boots."


Comment on "'Money, it's gotta be the boots'" using the form below