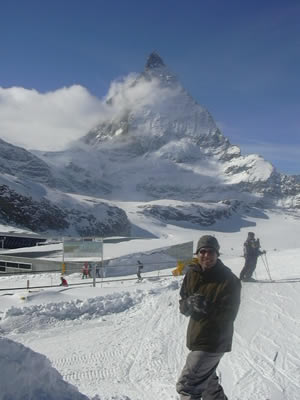 The blogger at the base of the Matterhorn in Zermatt, Switzerland, during the Winter Olympic Games in nearby Italy in 2006.
By Andrew Hood
Blog Tools
Comments
PermaLink
Matterhorn memories from the 2006 Winter Games
Snow keeps coming in the Vail Valley, but recent temps have been a bit more bearable
By David O. Williams
February 15, 2008 — The latest storm to roll through the Vail Valley produced 9 inches Thursday, but Friday brought the return of almost spring-like sunshine.


Unlike December and January, February has had a bit balmier feel to it – still plenty of snow but a few days of sun interspersed throughout, and temps in the 30s and even low 40s. And let's face it, day after day of bitter cold and constant snow is great for the snowpack but not exactly what the average guest is looking for.


Hope everyone enjoyed the sun and fun Friday because clouds and snow flurries return Saturday and Sunday, with the next round of sunshine slated for Monday. That concludes the weather-forecast portion of this blog; now on to my ongoing Olympic retrospective series.

Two years ago to the day the 2006 Winter Olympics were raging in full force in Torino, Italy, and the nearby ski resorts of the Vialattea (Milky Way). My personal highlight of the six weeks I spent there working for the Olympic News Service (read my full blog on the experience in our Real Rhetoric section at http://www.realvail.com/articles.php?artid=54) was the day my friend Andy Hood and I snuck off to ski from Cervinia, Italy, to Zermatt, Switzerland, at the base of the Matterhorn (check out the below video).


We're only two years out from the 2010 Winter Olympics in Vancouver, British Columbia, and make no mistake, those Games will rock. Another highlight of the 2006 experience was guzzling beer in the Canada House, a massive log cabin plunked down in a centuries-old piazza in downtown Torino. I'm already working on getting credentialed for Whistler – perhaps not quite as epic as the Matterhorn, but still one of the most amazing places on the planet.


See you there, eh?


Comment on "Matterhorn memories from the 2006 Winter Games" using the form below