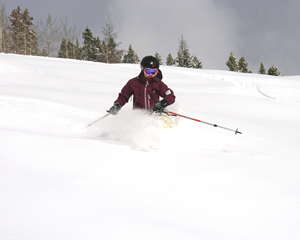 The powder just keeps coming at Vail and Beaver Creek (pictured here), which both received another 6 inches overnight Saturday into Sunday, March 2, with another a few inches expected during the day.
Courtesy of Vail Resorts
Blog Tools
Comments
PermaLink
Latest storm brings Vail within inches of its seasonal average
Brief spring-like break gives way to more winter weather
By David O. Williams
March 2, 2008 — Winter took a bit of a spring break the latter part of last week in the Vail Valley, with temps Wednesday through Saturday reaching into the 40s and even mid-50s by Saturday afternoon, March 1.


Gotta say, as much as I love snowfall – even though I can't ski in it because of a bum knee – it was nice to see some melting of the record snowpack as of late February, especially on my twisting, steep, hairpin turn of a driveway in West Vail.


Then winter returned overnight Saturday, depositing another 10 inches Saturday night and throughout the day Sunday.


To recap, at the beginning of last week we received 7 inches of new snow overnight Sunday, Feb. 24, and another 9 inches overnight Monday, Feb. 25, before the snow gods gave way to the sun gods.


For the record, that last February storm brought the monthly total to 94 inches of snow, a full 37 inches more than the February average of 57.


With 343 inches so far this season (counting the first March storm), Vail is only 5 inches from its seasonal average of 348, and March is the second snowiest month of the year (average of 63 inches compared to January's average of 64).


What does all of this mean for you, the average Vail or Beaver Creek snow rider? Killer conditions. All my spies on both mountains tell me that, even with Friday and Saturday's blistering spring-like temps (the high reached 74 in Denver Saturday, March 1), both ski areas are holding up incredibly well. No slush, even at the bottom.


And now we're right back into the winter storm cycle, with a bit of a break for some more sunshine Monday and Tuesday, then another storm rolling through Tuesday night into Wednesday.


So much for my dry driveway.



1 Comment on "Latest storm brings Vail within inches of its seasonal average"