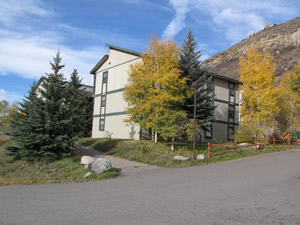 Want to know the latest on what's happening with the town's affordable housing stock (such as Timber Ridge, pictured here)? Then attend the town's annual open house Tuesday night (March 11) from 5 to 7 p.m. at Donovan Pavilion.
Blog Tools
Comments
PermaLink
Vail's open house: part business, part social function
Must-attend meeting informs on all the big issues
By David O. Williams
March 10, 2008 — If you like to gripe, or just want to know what's going on in Vail (where all those multiple millions in tax revenue are being spent), the Donovan Pavilion in the Matterhorn neighborhood is the place to be from 5 to 7 p.m., Tuesday, March 11.


If I can find a sitter, I'll definitely be there (the wife has a conflicting meeting, which she'll actually be paid to attend), because this is where you get the big-picture stuff – the stuff that really matters – not just the endless discussion of sewer taps and trash removal you get at most town council meetings.


The event – Vail's 8th annual Community Meeting and Open House – is being billed as part business and part social gathering, although it is sponsored by the Vail Town Council, so don't expect too much of a rip-snorter.

Instead, expect thought-provoking presentations and discussion on topics such as housing (or the lack thereof), forest health (or the lack thereof), parking (or the lack thereof), recreation facilities (or the lack thereof) and construction (got plenty of that), to name a few.


A 6 p.m., Mayor Dick Clevelend and other members of the council will make a quick presentation on the state of the town, with special guests Chris Jarnot, senior vice president and chief operating officer of Vail Mountain, and John Garnsey, executive vice president and chief operating officer of Beaver Creek, chiming in.


Questions will be fielded beginning at about 6:20 p.m., with more one-on-one time the rest of the evening. Call the town's community information office at (970) 479-2115 for more info.


Comment on "Vail's open house: part business, part social function" using the form below