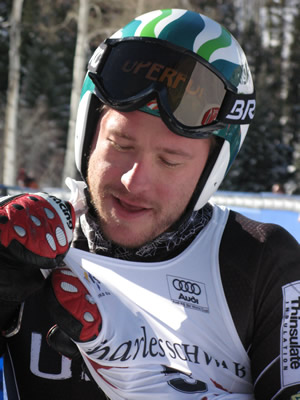 Blog Tools
Comments
PermaLink
Bode disdainfully backs into second overall title
But remains an inspiration for iconoclasts and truth-speakers worldwide
By David O. Williams
March 14, 2008 — Bode Miller won his second overall World Cup title in typical fashion Thursday – in a cloud of controversy.


Miller finished an amoebic 12th in the super-G at the World Cup Finals, but because his closest rival for the overall, Didier Cuche of Switzerland, finished behind Miller in 16th and then announced he would not race in Saturday's slalom, Miller claimed the most coveted title in the sport by default.


The overall title, which has only been won by one other American man (Phil Mahre three straight seasons in the early 1980s), tests a ski racer for an entire season, demanding consistent top results in several types of races.


The Olympics, by contrast, are a one-off roll of the dice in which even the greatest racers can finish off the podium (top 3) because of variables as random as wind, soft snow, a sudden rut, flat light or the wrong ski tune.

But despite winning his second overall, Bode was not happy about how it all came down in Bormio, fuming at the fact that Austrian and Swiss judges opted to cancel the downhill altogether on Tuesday and that the super-G turned out to be such a super-dud Thursday.


"This isn't the type of World Cup Finals I wanted to end the season with," Miller told the Associated Press. "In my mind, today wasn't my idea of a great super-G race."


Yeah, by American sports standards it's a bit like one team bowing out of the World Series right before Game 7 because, well, they don't like to play in Game 7's.


Granted, Cuche didn't race slalom all season, but come on, this is the Finals. And scrubbing the downhill altogether because of soft snow? Move it back a few days, find another way, but don't bag the downhill. That's like scrapping the Super Bowl because of a wardrobe malfunction.


"The racers, we just mostly want to race and see who's the fastest," Miller told AP. "It's tough when it comes down to the last races and the last races are like this. We want the Finals to be the climax to the season so we can all be done and move on. This year it seems like it's not living up to anyone's expectations. It was looking to be a great final in downhill with Cuche and I, and it takes away from that excitement."


Still, let's put Bode's second overall title in perspective. Miller had one of the best seasons ever for an American racer – ironically doing it outside of the highly politicized "system" of the U.S. Ski Team and the hardcore school-kid rules of former Ski Club Vail coach and current U.S. squad head coach Phil McNichol.


McNichol sounded a bit miffed that Miller won the overall without the U.S. squad, but let's not forget, in ski mad Colorado – perhaps the only state in the union that cares at all about ski racing, besides maybe Utah – Miller's overall win ranked behind actor Billy Crystal leading off an exhibition Yankees' game on the local news. And the only reason Miller got that much play is because he's Bode.


The man has carved out a mainstream name for himself by being controversial in ways that aren't really that controversial. He states the obvious, such as skiing and alcohol go together like New York governors and high-priced call girls, or the only way to clean up all sports and guarantee an even playing field is to let everyone do performance-enhancing drugs, or the Olympics are an overhyped freak show.


But despite 31 World Cup wins – the most ever by an American – and now two overall titles, second only to Mahre among Americans, the only way the good old USA will ever care about Miller's athletic accomplishments is for him to hang out long enough to win an Olympic gold medal at the Vancouver Winter Olympics in 2010 (or maybe win Dancing with the Stars).


Only Europeans can make a distinction like this: Marc Girardelli, an Austrian who raced for Luxembourg, won a record five overall titles (46 overall World Cup wins) but only two Olympic medals – both silver at Albertville, France in 1992. Still, the Euros know him has one of the all-time greats: fourth on the career wins list, in fact.


A decade later Bode, now sixth on the all-time list, won two silvers at Salt Lake in 2002, but all the American fan remembers is the fact that he allegedly tanked in Torino in 2006, because he partied too much. In fact, that's one of the reasons America remembers him at all.


Bode has lived on the edge his whole life, and that's how he gained a name in the U.S.
Unfortunately, his knee may not let him make it to 2010, or, as he's stated before, he'll chuck it all before then because he thinks the Olys are a sham. That would be unfortunate.


Because the man inspires even recreational skiers, and Friday (March 14), I'll be seeing the doc who got Miller back in the saddle in time for Salt Lake: Dr. Richard Steadman. He's scoping my knee in hopes I can get back on the hill for 0809.


I'll never know what it's like to go 80 on Birds of Prey, but next season I'd love to go 30 again in thick crud on Genghis Khan. If I can do that at 43, surely Bode can hold on till Vancouver at 32.


1 Comment on "Bode disdainfully backs into second overall title"