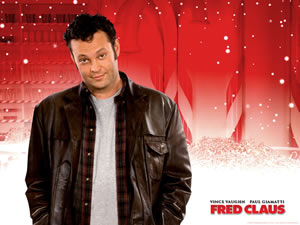 Vince Vaughn, seen all over Vail last week (and here in his recent hit "Fred Claus"), was spotted with Ralphie from "A Christmas Story." What's up with that?
Courtesy of Warner Brothers
Blog Tools
Comments
PermaLink
An epic season lost; an Epic Pass gained
But who really gains (and loses) and why was Vince Vaughn here?
By David O. Williams
March 19, 2008 — Let me begin this blog by apologizing for being out of the loop the last several days. I had knee surgery on Friday, and I believe there are some hard and fast rules about blogging under the influence of pain killers.



Anyway, quick update on the knee front and then Iíll be done with that painful topic. Dr. Richard Steadman (or at least one of his fellows) scoped my left knee and cleaned out some obstructive scar tissue, including a piece of my old ACL, which I believe I snapped back in 1992 and have being skiing without ever since.



I already feel more range of motion in the knee and have been hitting the PT very hard. I cannot say enough about the Vail Valley Medical Center, the Steadman-Hawkins Clinic and the Howard Head Sports Medicine Center. These guys are all true pros, and I feel very fortunate to live so close to the best orthos and PTs in the world (this is not a paid endorsement, as my insurance company is being billed in full Ė and Iím picking up 20 percent Ö ouch).

I got in 22 days of skiing before reinjuring my old injury on Jan. 9, and so I feel I did some good stuff on skis this epic season (although I know I missed the best part Ė shut up, VailSnob), but my goal is to get back on skis for Day 23 by closing day on April 13. Stay tuned.



Speaking of all things epic, I have mixed feelings on Vail Resortsí new Epic Pass (unrestricted skiing at all five VR mountains Ė Vail, Beaver Creek, Breckenridge, Heavenly and Keystone) for $579.



On the one hand, I think affordable season passes are good for the industry, especially ones that can be purchased online and donít have to be picked up at select stores on the Front Range of Colorado at certain times of the year. I always thought it was unfair that out-of-state skiers had to pay full boat then stand in line with hordes of Denverites with inexpensive Colorado Passes.



And I think a lot of locals are psyched to finally be able to fully participate in the pass wars that have been going on for most of the last decade. The Colorado Pass, which last season offered unlimited snow riding at Breck, Keystone and Arapahoe Basin plus 10 days at Vail and Beaver Creek for $419, was never really an option for locals who would always ski more than that here. And a full, unrestricted, five-mountain season pass was around $1,800 this season (not an option for most locals).



The merchant pass also dropped to the $579 level, so a lot of local businesses will not have to stretch so much to provide their employees with passes. But here are my concerns, and I know they will be echoed by a lot of folks in Eagle County (in fact, itís all anyone is talking about around town):



If this pass in any way results in an increase in skier days beyond the current level of around 1.6 million a season at Vail and around 800,000 at Beaver Creek, the infrastructure in and around Vail and Beaver Creek will suffer, and so will the overall guest experience.



I have already had one VR employee tell me the only reason they were working for the company was for the pass and now they wonít have to next season. Another local business owner told me he has never seen such a labor shortage at Vail this season, waiting in massive lines at Two Elk and finding an administrator filling in on a cash register. Vail Resorts cannot afford the labor hit this move potentially invites.



Also, parking, housing and skier safety (not to mention snow quality) will be adversely impacted by any increase in skier days, and the company so far is lagging behind in helping to solve all three. It has been an epic snow season in 2007-08, but it has also been an epic traffic season (cars parked on the frontage roads on week days in January and February, colossal traffic jams on the interstate); an epic labor shortage season (restaurants cutting hours because of a lack of workers); and an epic season for slope rage (long lift lines and crowding in choke points).



I was just advocating to a friend that VR break Vail and Beaver Creek away from the other mountains, cut the 10 days and reestablish the brand as a truly high-end destination ala Aspen/Snowmass and Deer Valley, Utah, which will now own No. 1 for the foreseeable future.



The real estate and lodging is all going that way at Vail and Beaver Creek, but the company keeps treating the ski product like a day-skiing, brown-bagging, Starter jacket brand. I donít think you can have it both ways, but only time will tell.



One last note on the topic (for now): I donít see a lot of Colorado skiers jumping all over Heavenly, except as a sort of changeup weekend (ski, toss in a little gambling), because, letís face it, our snow is so much better than the Sierra Cement around Tahoe.



But I do see a lot of Bay Area skiers, frustrated with the nightmare that is I-80 (makes I-70 look downright civilized), finding itís easier to head this way for the weekend, especially with better flights from San Fran to Eagle rumored for next season. So we could get a skier-day hit there, which could be a good or bad thing depending on how proactive the company is in helping to deal with the parking, housing, slope-crowding crisis. Again, the jury is still out on the Epic Pass.



Finally, the RealVail Celeb Scope (not to be confused with the RV West Vail Deck Cam) caught Vince Vaughn in town last week, hanging with Ralphie Parker (Peter Billingsley) from ďA Christmas StoryĒ at Sapphire restaurant in Vail Village. Could they have been talking about a remake of the 1983 classic (maybe working Fred Claus in there somehow)? Only time will tell on that one, too.



Meantime, Iíll be polishing my Red Ryder BB gun, working on my knee and mulling over all the ramifications of the Epic Pass.

2 Comments on "An epic season lost; an Epic Pass gained"