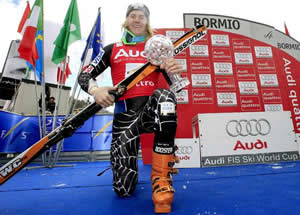 Olympic gold medalist Ted Ligety, shown here celebrating his overall giant slalom title in Bormio, Italy, last week, was in Vail Friday to have work done on a hand he hurt in the super-G in Bormio prior to his GS win.
Courtesy of the U.S. Ski Team
Blog Tools
Comments
PermaLink
Hand Ligety busted in Bormio gets fixed in Vail
And final thoughts on Fossett memorial in Beaver Creek
By David O. Williams
March 21, 2008 — Funny who you run into when you're rehabbing your knee.
Some of the best sports celeb watching in the world occurs at the Steadman-Hawkins Clinic and Howard Head Sports Medicine Center in the Vail Valley Medical Center. I was in doing PT on Friday and noticed a small ripple of attention when the golden, flowing mane of gold medal ski racer Ted Ligety flowed in the door.
Ted Shred's forearm was in a cast, and the word is that he injured his hand in the super-G at the World Cup Finals in Bormio, Italy, last week. I'm still awaiting official word on whether it's a break or something less serious and will keep you posted on the medical front.
I was going to just stroll over and ask him, but by the time I was done icing my knee he had taken off. The folks at the U.S. Ski Team weren't exactly sure on his medical status either (as of Friday afternoon), but they did say he hurt the hand prior to his amazing win in the final GS of the season in Bormio, a victory that cemented the overall GS title for him and gave him his third career World Cup win.
I'll never forget Ligety winning gold in the combined event at Sestriere, Italy, in 2006 at the age of 21. I was there, covering the races for the Italian organizing committee, and was blown away by the pure joy of the race itself and the press conference afterwards.
So the legend now grows for the 23-year-old from Park City, Utah. Not only did he win the GS crown in the season's final race, but he did it with a bad hand. The only thing I was disappointed with Friday was that Ligety had said on a conference call earlier in the month that if he won the GS globe he would have his long hair done into a mullet. No evidence of that Friday.
A few quick thoughts from the memorial service for record-breaking balloonist Steve Fossett at Beaver Creek's Vilar Performing Arts Center on Thursday. For those who didn't know him, I think there was a temptation to label Fossett a self-absorbed thrill-seeker doing anything for a quick headline.
But I interviewed him several times in the mid to late 1990s when he was pursuing his crowning achievement of becoming the first man to fly a balloon solo and nonstop around the world. He struck me as anything but a cheap publicity hound. He was quiet, contemplative and someone driven to pursue great feats for the pure spirit of accomplishment.
I can't say I always fully understood what motivated him – much as I have a hard time fully grasping what makes someone ski a seemingly impossible line in Alaska with an avalanche chasing their tracks, or climb a deadly 8,000-meter pinnacle in the Himalaya – but I absolutely can appreciate the pure adventure of such accomplishments.
Thursday's memorial was an understated tribute to just such an adventurer, and the heartfelt tributes, especially from Fossett's plain-speaking ballooning brethren, painted a fascinating portrait of a man who was a millionaire but was clearly more comfortable inflating a balloon in a freezing cornfield in Nebraska than he was rubbing elbows at a Beaver Creek cocktail party.
The lingering mystery of his disappearance while flying solo over the desert wastes of Nevada is as intriguing as it is tragic.

Comment on "Hand Ligety busted in Bormio gets fixed in Vail" using the form below