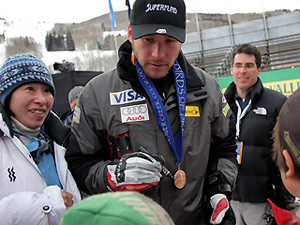 World Cup ski racing, at least in the United States, is almost exclusively the domain of the domain name wcsn.com, or the World Championship Sports Network, where the blogger was spotted in the background of this photo, stalking overall champion Bode Miller in Beaver Creek last December.
Courtesy of wcsn.com
Blog Tools
Comments
PermaLink
Roll out the red carpet: The O. Report debuts on MSNBC.com
By David O. Williams
March 26, 2008 — The Buggles now know what I'm talking about when I tell you that "Internet Killed the Video Star."


But back in '79 when the British new wave duo released its top-40 hit, "Video Killed the Radio Star" – the first video ever to air on MTV – the Internet was just a glimmer in Al Gore's eye.


Now the www is the king of media world, so it makes sense that my short-lived career as a television talking head (a couple of interviews with Shelley Smith on ESPN2 during the Kobe Bryant case earlier this decade) has now moved to the Web.


Check me out on MSNBC.com's Ultimate Family Road Show by clicking on the video below. It's a puffy travel series for the Web, but I had fun doing it.


And besides saying the word "massive" way too many times, I don't think I'm half bad, which I realize leaves me open to the possibility of only being half good. You be the judge (and sorry for all the Disney ads – apparently the Mouse wrote the checks for this gig).


But don't give up on traditional celluloid, which will be celebrated April 3-6 at the annual Vail Film Festival. Get more info by clicking https://vailfilmfestival.org, and rest assured, I will not appear on any of the screens. I'm just going as a film fan, and so should you.

1 Comment on "Roll out the red carpet: The O. Report debuts on MSNBC.com"