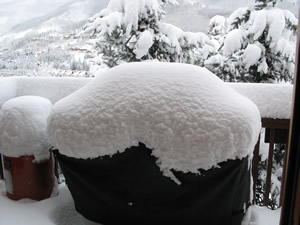 Only a day earlier, the blogger's barbecue grill, as captured by the West Vail Deck Cam, was ready for action. Now it's buried under a foot of wet snow.
By David O. Williams
Blog Tools
Comments
PermaLink
Vail surpasses 400 inches as wet, heavy spring storm drops 2 feet
Storm forces blogger to start actively seeking warmer, drier climes
By David O. Williams
March 31, 2008 — Much as some of us might want it to be, winter is not done with us here in the Vail Valley. A sloppy 13-incher rolled through Sunday night and brought Vail Mountain to that magical 400-inch cumulative snowfall threshold.


Then another 11 inches fell during the day and into the evening Monday, bringing the final monthly tally to 78 inches, well ahead of the annual monthly average of 63 (second only to Januaryís average of 64).


For the record, that's 411 inches for the season, 63 ahead of the annual average of 348, and from what I hear, the conditions were mid-winter and steller Monday and Tuesday.


The same could not be said for the rest of March (my surgically repaired left knee still prevents me from seeing for myself), as conditions for most of the month paled in comparison to December, January and February, when temps stayed low and the snow fell fast and furiously. The freeze-thaw cycle started early this spring.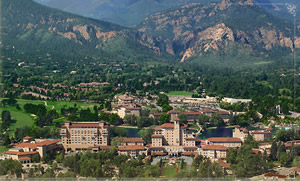 The Broadmoor in Colorado Springs is one of two Mobil five-star hotels in the state, along with the Little Nell in Aspen.

But still, more than 33 feet of snow so far this season means the last couple of weeks should provide for some amazing spring skiing (if the sun ever makes a return engagement). Me? My mind is wandering to Moab and warmer climes. If you canít ski, might as well get a jump on cycling season.


In fact, last week was spring break for our local schools, and in order to get the kids out of the house and keep all of us from killing each other, we headed down to one of two Mobil five-star hotels in the state: the Broadmoor in Colorado Springs (the Little Nell in Aspen is the other one).


Incredibly, the Vail area boasts no five-stars, although after attending the First Descents Ball at the Ritz-Carlton, Bachelor Gulch, Saturday night, I think a strong case could be made. By the way, what an awesome, high-energy event, with kayaking superstar Brad Ludden leading the charge to raise funds for young cancer patients Ö but I digress.


Back on the snow/spring getaway front, Iím not one to tell people to spend spring break anywhere but in the fabulous Vail Valley, but if youíre like me and just a little sick of shoveling precipitation, the Broadmoor is a must-see lodging property.


At the base of Pikes Peak and loaded with Colorado history (a hangout since the 19th century for visiting politicians and celebs from around the globe), the Broadmoor is a compound of plush buildings arrayed around a lake, with golf courses, spas, an infinity pool and a full-sized, in-house movie theater. Itís also home to some great restaurants, including the new Summit, across the street in the meeting complex.


Right now, the Broadmoor is offering a spring deal through April 20 that starts at $85 per person (for adults) and gets kids under 10 in for free, which also includes free dining and movies for the youngsters when accompanied by paying adults. Check out the details at http://www.broadmoor.com/colorado-vacation-packages.php.


It was relaxing, killer rehab for my knee in the fitness center, plenty of tennis for my wife and the kids in the bubble-domed tennis center, and with temps in the upper 60s, just the right medicine for my severe case of cabin fever. Plus, the scenic drive from Vail took us right through South Park and Hartsel, the home of the creepy and still mysterious buffalo massacre that just took place (we only saw a herd of pronghorn antelope).
Thatís my getaway suggestion du jour, but for those of you still jonesing for powder turns before Vail shuts down on April 13, get out here this weekend for the Taste of Vail and Vail Film Festival and the following weekend for Spring Back to Vail. Itís all going on over the next couple of weeks.

Comment on "Vail surpasses 400 inches as wet, heavy spring storm drops 2 feet" using the form below