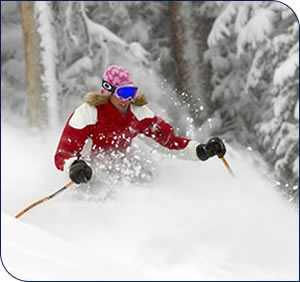 No, this shot is not from mid-February. This was just the other day at Vail, where it's mid-winter conditions and not too many people skiing (Front Range or otherwise). Hard to believe Sunday is closing day.
Courtesy of Colorado Ski Country USA
Blog Tools
Comments
PermaLink
Local riff-raff begs ski company to keep lifts going a couple more weeks
More fallout from the Kaye Ferry controversy, and Vail passes the 450-inch mark
By David O. Williams
April 11, 2008 — It's almost tax day, and the snow keeps coming down as wet and heavy as Front Rangers posting vitriol on the ongoing stories about Kaye Ferry's "Front Range riff-raff" comments.


As of 5 a.m., we were at 450 inches of snow (the annual average is 348) and it just keeps coming. Closing day is Sunday, and since I haven't been able to ski since mid-January due to a bad knee, I'm as sick as can be of the unrelenting white stuff.


I'm also getting sick of the riff-raff story, but I'll revisit it just to clarify a couple of things. First off, there's no conspiracy here, folks. I called Kaye up because I know she's an outspoken quote machine who refreshingly tells it the way it is (in her very strong opinion).
I had read with interest her April 1 column in the Vail Daily criticizing the ski company for not working more closely with the town to mitigate the impacts of day skiers. She started that column by writing: "I probably don't need to tell you this, but I will. I'm not very good at being politically correct." Click here to read that column.


Also, I'd read this in a March 18 Vail Daily story on the Epic Pass: "But some worried that the cheap pass may jeopardize Vail's high-end reputation. People who spend lots of money to come to Vail don't want to encounter lots of crowds, said Kaye Ferry, executive director of the Vail Chamber and Business Association."


Then the story carried this quote from Ferry: "No one's going to want to spend $2,500 a dollar a night for a room at the Arrabelle so they can fear for their lives with their grandchildren on the mountain." Click here to read that story.


When I called Kaye, I told her I was working for a new website, www.coloradoconfidential.com (in addition to www.realvail.com ) and that I was doing a follow-up on the potential Epic Pass impacts if many more are sold and Vail skier days increase significantly. She gave me almost verbatim the quote she'd given to the Vail Daily, then she expanded on it:


"They're paying $2,500 a night for a room, and then they're fearing for the lives of their grandkids when they go skiing over Christmas," Ferry told me on the record. "Throughout the history of (Vail) we have appealed to exclusivity. The only people we let up there during Christmas are the ones with the big homes and their ski instructors. We had eliminated the Front Range riff-raff, and all of a sudden we're selling a pass that's to the masses."


Later in our conversation, she did ask to go off the record on some matters, which I agreed to and honored, and she asked me not to get her in trouble. To be honest, Kaye has been saying these kinds of things for so long – both verbally and in print – that I didn't think this would get her in trouble.  The story was going on the Web, not in a major metro paper, and I underestimated the power of the Internet.


But that doesn't change what she said; nor does it change the fact that she's essentially sticking by the meat of her argument and only denying the riff-raff bit. What's more inflammatory, calling day skiers riff-raff or telling the world that your grandchildren could be killed skiing Vail (in a season in which a skier just died at Vail to break the state's single-season skier-death mark)?


I think Kaye's great. She speaks her mind, acts as a watchdog for local government and rails against public stupidity. And I'll miss her if she decides to never speak to me again (which seems highly likely) or steps down from her post as the head of the Vail-only chamber.


But she's getting some bad advice right now. If I was some random blogger who'd nailed her on this comment, or a newbie fresh out of J school who just stepped in through the revolving door of the Vail Daily, that would be one thing. But I've been writing for Colorado newspapers and magazines since 1988, and I don't have a reputation for misquoting people – or making stuff up because of a personal agenda.


Kaye should have issued this statement: "I don't know if I said 'riff-raff.' I don't think I did. But if I did, and it was on the record when I thought it was off, then I sincerely apologize to anyone on the Front Range or in the local community who was offended. We highly value all of our customers here at Vail, but I am sometimes very outspoken in wanting those guests to have the best experience possible when they get here – from traffic to to shopping to parking to safety on the slopes – and I am concerned about the pressures the Epic Pass will put on Vail's infrastructure. The chamber will continue to work with the town and Vail Resorts to mitigate those impacts."


That's it. Story over. No need for this thing to keep churning its way through the news cycle.


And speaking of being critical of Vail Resorts, while I'm now officially sick of all the snow, would it kill you guys to keep a couple of lifts open for when the sun finally does start shining again? The mountain could stay open till May at this rate, but how about just another week or two?


Just keep the Vista Bahn and Chairs 3, 4 and 5 open so people have a reason to keep wandering around the village and spending money and coming to town for a few true spring-skiing turns.


I know staffing is a huge issue for the amount of skier traffic, but I'm betting the community would step up and volunteer to help out. There has to be a couple of patrollers who would volunteer or work for less pay (or maybe the chamber takes up a collection to pay them). Hell, I'll lift op a couple of days since I can't ski.


Maybe Kaye will join me, and we can wear our "Front Range riff-raff" T-shirts. By the way, even though I've lived here since 1991, I went to Manual High School and Metro State. Am I Front Range riff-raff or a Vail elitist? Food for thought.


1 Comment on "Local riff-raff begs ski company to keep lifts going a couple more weeks"