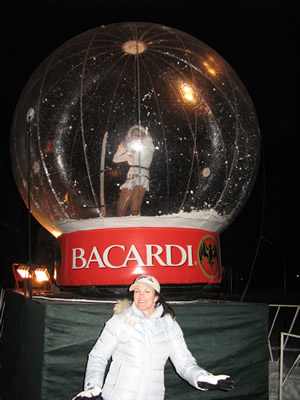 Girl in the bubble: The Bacardi Girls were the star attractions Saturday night at the final Spring Back to Vail party at Ford Park, featuring Ben Harper.
By David O. Williams
Blog Tools
Comments
PermaLink
The 2007-08 ski season was one for the record books
But many snow riders are left wanting more
By David O. Williams
April 14, 2008 — Hard to believe itís all over.


The incredible season that was Ė a final and whopping tally of 463 inches of snow Ė came to a sizzling conclusion Sunday on a 50-degree day at Vail that finally felt like spring. Both Vail and Beaver Creek shut down the lifts till next November.


The valley was packed for the big finale, with huge crowds both Saturday and Sunday, and the Ben Harper show went off at Ford Park on Saturday Ė the big capper for Spring Back to Vail.


Vailís snowfall total ranked as one of the top-three snowiest winters of all time, and Beaver Creekís 427 inches of snow was definitely the Beavís deepest, fluffiest season ever.

But the whole premature ending thing is a bit of a downer. With workers headed out of town in droves, Vail Resorts officials say there simply isnít the staff, or the interest, to keep the mountain open another week or two Ė or even a weekend or two the way Aspen Highlands is doing.


Thatís a pity, because if this weekend was any indication, interest is still running high. Again, brings me back to my point earlier this season when we had absolutely no snow in November - even having to push back opening day - and now weíre shutting down with a mid-January base.


The ski resorts collectively need to back off the early season hype and push the spring a little harder. Now itís the Monday after ski season and Vail and Beaver Creek are ghost towns, with at least another month of skiable base.


Doesnít make a whole lot of sense. Targeting mid-December opening dates, then opening before Thanksgiving if possible, would be a much better plan. Then we could use a little more flexibility on the other end, in order to extend the season a week or two if conditions warrant it.


Regardless, 2007-08 will long be remembered as the season of the endless powder day. For a three-month period encompassing December, January and February, this past season could not be beat.


For me, it was the season of my return to Vail (from Edwards) and a knee injury that sidelined me from mid-January on. I still landed 22 days on snow - many of them very, very good - but I was, of course, left wanting more.


Letís hope that after I rehab all summer, í08-09 winds up being just as fine. For now, though, let the meltdown begin.


Comment on "The 2007-08 ski season was one for the record books" using the form below