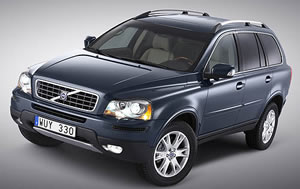 Vail cops will soon be driving Volvo SUVs around town, and the Swedish automaker is a major sponsor of Vail Resorts, but shouldn't the ski company - and other ski companies such as Intrawest - be much more active supporters of a mountain rail system?
Courtesy of Volvo
Blog Tools
Comments
PermaLink
Vail should take the lead on mountain rail system
Vail Resorts' commendable green actions just the tip of the proverbial iceberg
By David O. Williams
April 28, 2008 — Hard to take global climate change too seriously after the kind of late-April weekend we just experienced in Vail. If you were already in the Southeastern Utah desert or on a beach in Mexico and missed it, we had snow on Saturday and an enduring chill on Sunday.


It kills me that the mountain is closed, with only a couple of brown spots starting to open up at the bottom. Talked to a few locals headed over to Aspen Highlands for their final weekend, and you still see some boards atop cars around town, likely headed to Loveland or A-Basin.


It's really quite silly to think about the October and November conditions suffered this season for a few turns on the white ribbon of death, and now most of the state's ski areas have shut down with solid top-to-bottom coverage. What a waste of water in the fall (for snowmaking) and perfectly skiable base conditions in the spring, especially after this weekend's dusting (although now that the lifts have shut down, we'd all like to see some sunnier skies).
But frankly, that's the kind of weather you'd expect this time of year at more than 8,000 feet. I'd be worried if it was balmy and pushing 80. Still, our local ski company keeps taking steps to at least signify some concern about our oil and coal-consuming energy infrastructure, which Vail Resorts rightly sees as a threat to the ski industry itself.


On Saturday, VR was honored by the National Forest Foundation, the nonprofit partner of the U.S. Forest Service, for raising more than $500,000 for projects to restore and improve the health of surrounding National Forest in Colorado and California. The money came from voluntary contributions made by guests buying lift tickets and lodging.


Also last week the Vail Daily reported that VR is applying to the Forest Service to put small wind turbines atop Vail Mountain and solar panels on buildings and even gondola cars. This comes on the heels of the company purchasing wind credits to offset energy consumption at all five of its ski areas, serving natural and organic food in many of its restaurants, and seeking LEED (Leadership in Energy and Environmental Design) certification for its planned Ever Vail base village.


These are all very tangible steps toward a greener future in the Vail Valley and a radical departure for a publicly traded company that must answer to antsy shareholders. CEO Rob Katz should be applauded for moving the corporate culture in the right direction after following in Aspen's footsteps for at least a decade.


Now the company needs to take it to the next level. If Ever Vail gets built to LEED standards – and that's still a big if in today's slowing market – it will be the first green-built project the company has produced in Vail, where snowmelt systems under streets and sidewalks arguably counter most conservation efforts.


And while the company clearly has done a great deal to mitigate the fire threat on the pine bark beetle-ravaged slopes of Vail Mountain – likely as much as it can under the constraints of its Forest Service lease – it could be a more vocal force in publicly lobbying the federal and state governments for measures that could speed the response to this devastating epidemic and perhaps make lemonade from lemons in the form of biomass.


Clearly I don't understand marketing, but I think VR is slow to toot its own horn on what it's done so far to mitigate the beetle-kill catastrophe and to take a lead on what more can be done. It seems they're taking the ski-helmet approach of not wanting to draw attention to a negative by being a force for positive change.


The same can be said for the company's behind-the-scenes approach to Interstate 70, its lifeline to the Front Range now that it relies so heavily on the sale of Colorado and Epic passes. Yes, VR is a member of the I-70 Coalition and therefore working toward a comprehensive solution, but it could be a leader on the issue, getting out front on a situation many people blame on the cheap pass sales – at least in the winter months.


Somebody pointed out to me the other day how ironic it is that every ski area seems to have an automobile sponsor – Volvo, in Vail's case – when the burning of fossil fuels is clearly a huge contributor to greenhouse gas emissions that could dramatically shorten ski seasons around the globe.


The Town of Vail, also much greener these days and a big purchaser of wind power credits, recently opted for Volvo SUVs for its police force. Volvos are great cars (I own a Volvo sedan myself), but do the cops need SUVs? For years they got by with SAAB sedans.


If Vail Resorts can raise a half a million bucks through voluntary contributions to the National Forest Foundation over the past two seasons, couldn't it do the same on the transit issue, helping to pay for studies and increasingly urgent lobbying efforts in order to help generate the political will for a mountain rail system?


They will never have a better governor or more likeminded Legislature for making something happen. Sure, Americans are addicted to automobiles, and many people will continue to drive to the slopes, but a great many more people would love the Euro-style option of mass transit to the mountains – and a train on existing tracks from the Eagle County Airport to at least Avon is a no-brainer.


Such things will take some political arm-twisting with Union Pacific and state and federal politicos, but with oil prices skyrocketing, uncertainty over future supplies mounting and I-70 under increasing pressure from weather closures, spiking traffic and dwindling maintenance funds, can Vail Resorts really afford not to be out front on this issue?

Comment on "Vail should take the lead on mountain rail system" using the form below